Are you in a holi-daze already? We are! New styles have dropped that are ready to show off seasonal style with all your outfits. Get ready to celebrate the holidays and browse gifts for yourself or others:
Mickey Mouse Hanukkah Sequin Glow Mini Backpack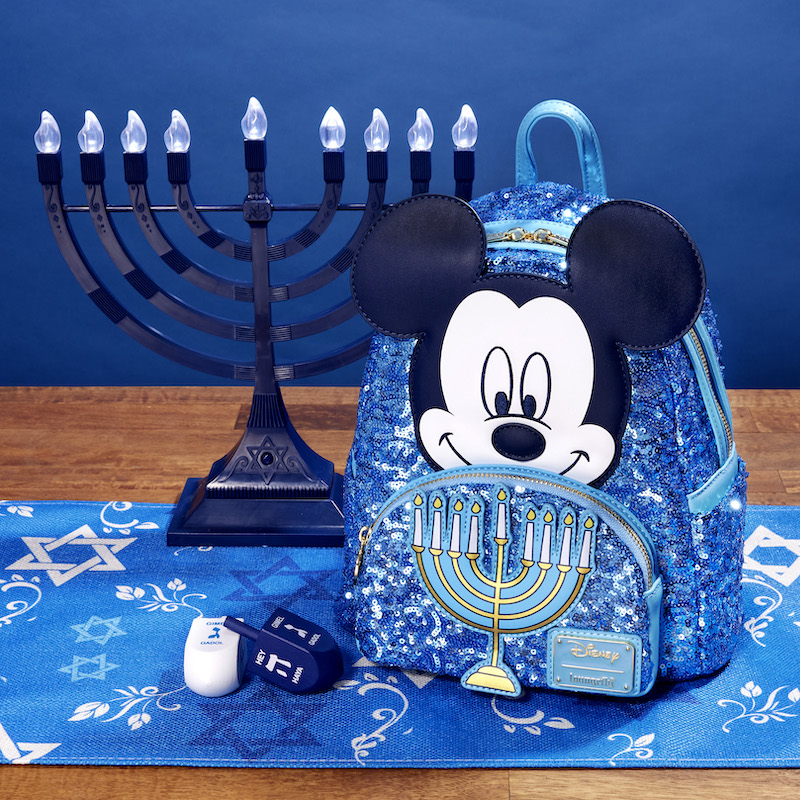 Check out our Hanukkah collection! The mini backpack features Mickey Mouse on the front of a blue sequin bag. The front pocket shows a fully lit menorah. The candle flames glow in the dark! On the back, you'll find the words "Happy Hanukkah."
This bag is perfect to show off during the holiday season as it glitters along with every outfit you'll put together!
Minnie Mouse Hanukkah Sequin Crossbody Bag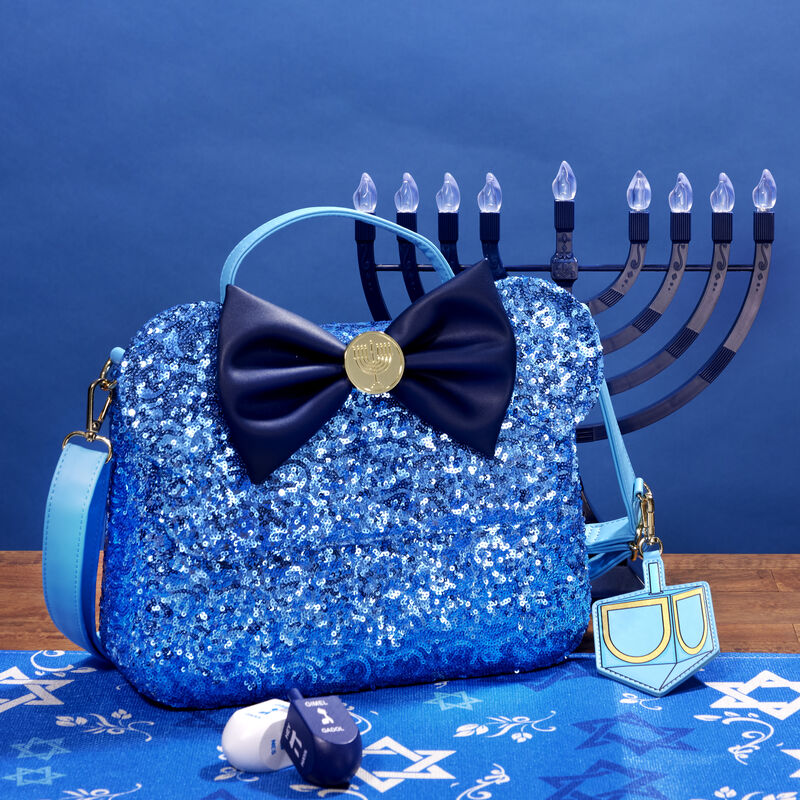 Looking for a crossbody to carry with you? This bag matches the backpack with blue sequins covering it. You'll find figural Minnie Mouse ears on the top of the bag. A blue bow sits between her ears, with a golden menorah in the center.
A light blue handle sits at the top of the bag, if you prefer to carry it that way. There's also a light blue crossbody strap that has a dreidel-shaped charm on it! Sparkle and shine showing off the Festival of Lights with this bag!
Minnie Mouse Hanukkah Sequin Zip Around Wallet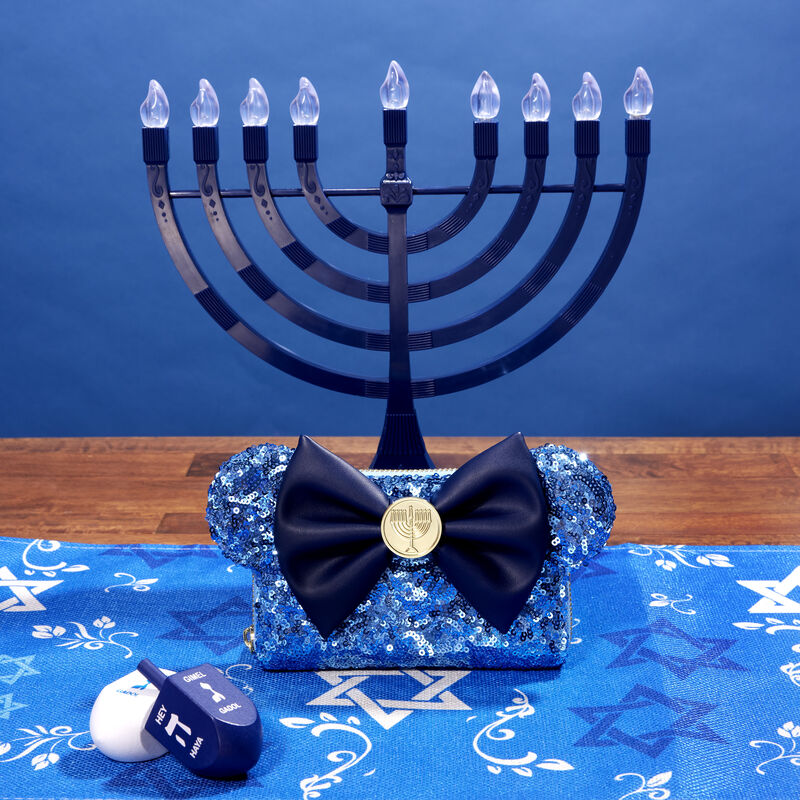 Complete your look with this matching Minnie Mouse Hanukkah wallet! This glimmers in blue sequins and figural Minnie Mouse ears. You'll find a blue bow with a golden menorah in the center. Unzip it to find four card slots and one clear slot for an ID! Perfect for when you need to travel light or want to add it to your ensemble for a complete look!
Mickey & Friends Gingerbread House Mini Backpack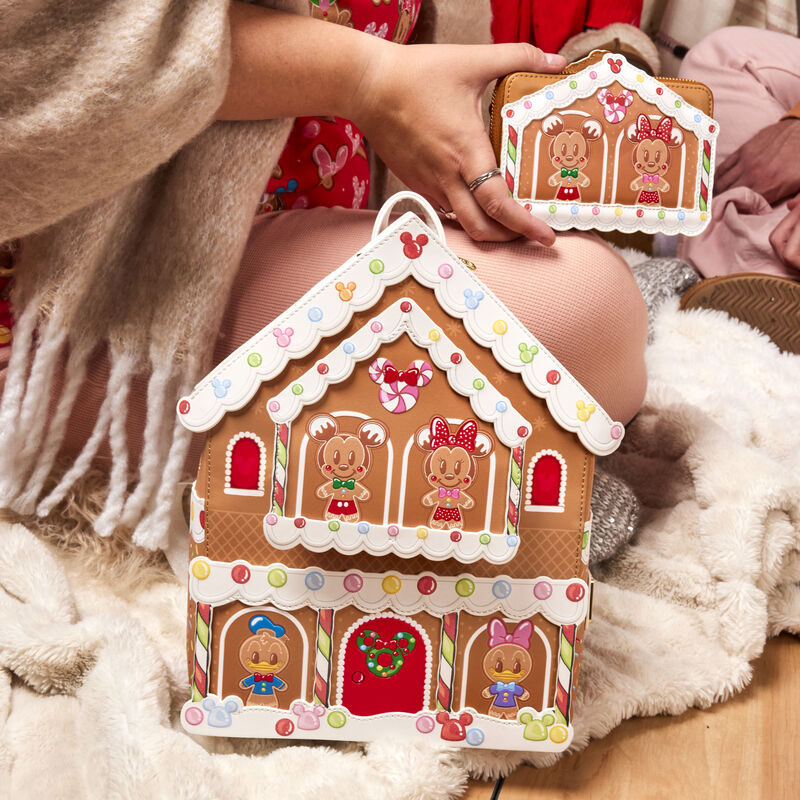 Okay, raise your hand if you make a gingerbread house every year! This adorable backpack is in the shape of a gingerbread house and features fun details like icing, gumdrops, and peppermints. You'll also find your Disney favorites in gingerbread form!
On the back, you'll find Pluto sitting outside of his gingerbread doghouse! It's a fun, festive treat that looks good enough to eat (but we don't actually recommend eating it, please).
Mickey & Friends Gingerbread House Unisex Hoodie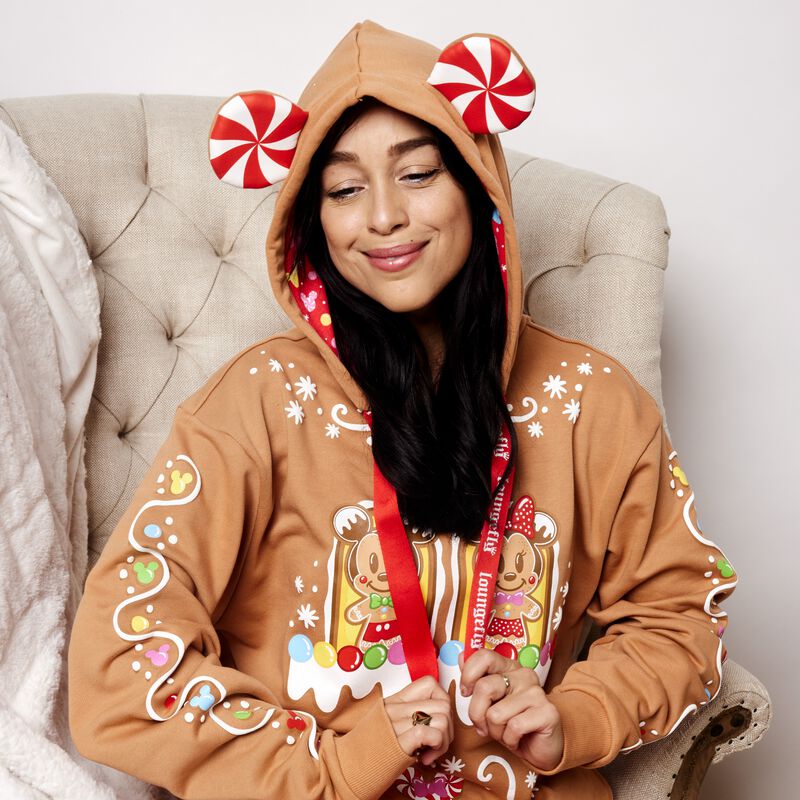 Time to cozy up! This unisex hoodie is a perfect match for the gingerbread house mini backpack if you're out and about but works just as well with your favorite pair of sweats when you want to stay in from the cold. You'll find pretty icing details all over with candy details mixed in.
You'll also find Mickey Mouse, Minnie Mouse, Daisy Duck, Pluto, and Donald Duck in gingerbread form! Oh, and we can't forget our favorite part! Lift the hood and find two peppermint Mickey Mouse ears!
Nightmare Before Christmas Tree String Lights Glow Mini Backpack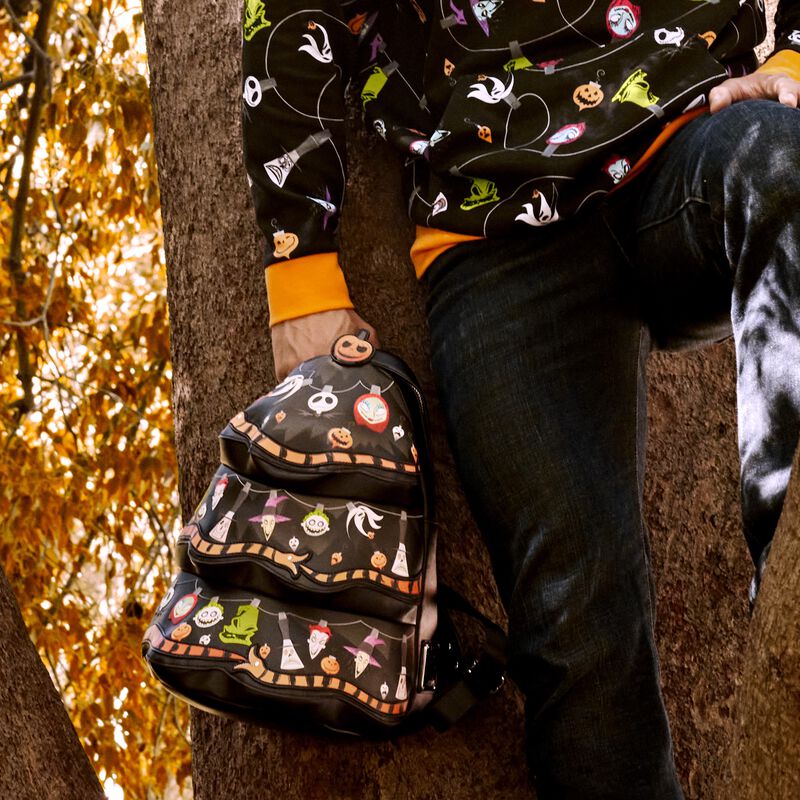 Time to decorate the tree! Deck the halls with all manner of creepy characters. This backpack is in the shape of a holiday tree. Details include characters from Tim Burton's The Nightmare Before Christmas as holiday lights.
You'll also find a sandworm on each tier curling around the tree and eating its own tail. At the top, you'll find Jack Skellington's pumpkin head. Turn it around and you'll find another sandworm eating a tree!
As night falls early, this bag will glow after dark. Take a peek inside and you'll find the lining brings everything together with images of the characters as holiday bulbs! Make a statement this holiday season with this festive figural bag!
Minnie Mouse Pastel Snowman Mini Backpack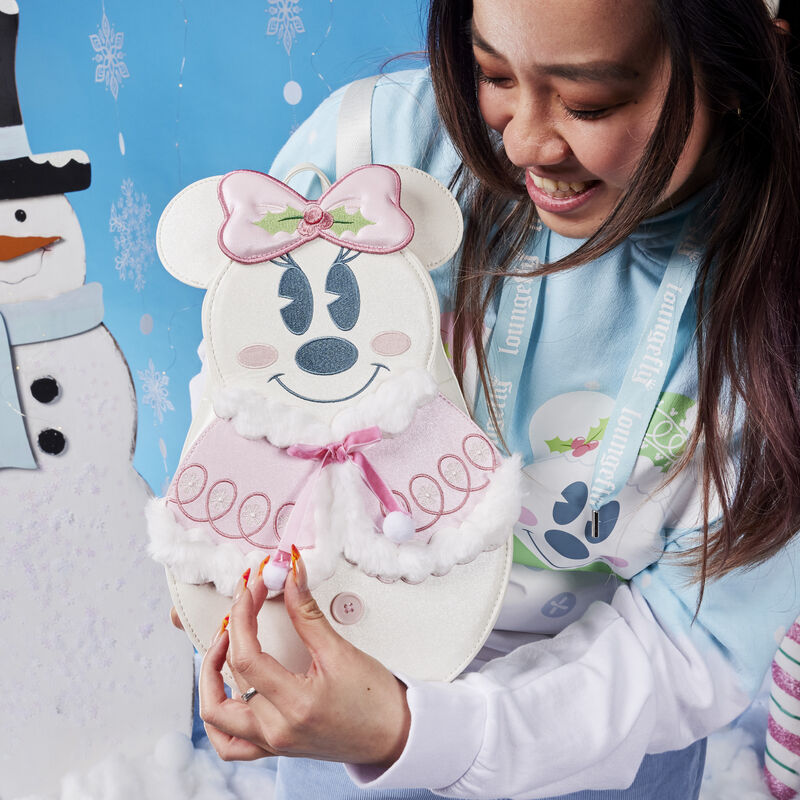 Okay, this one really is snow much fun! Minnie Mouse is chilling in her best snowman form with this backpack. You'll find a pink bow between her ears, a pink shawl over her shoulders with a 3D bow and faux fur lining, and 3D pink buttons.
Turn her around to find an image of a snowflake with a hidden Mickey within it! She's ready for all the wintertime adventures ahead!
Stitch Shoppe Mickey Mouse Exclusive Winter Snowman Iridescent Figural Crossbody Bag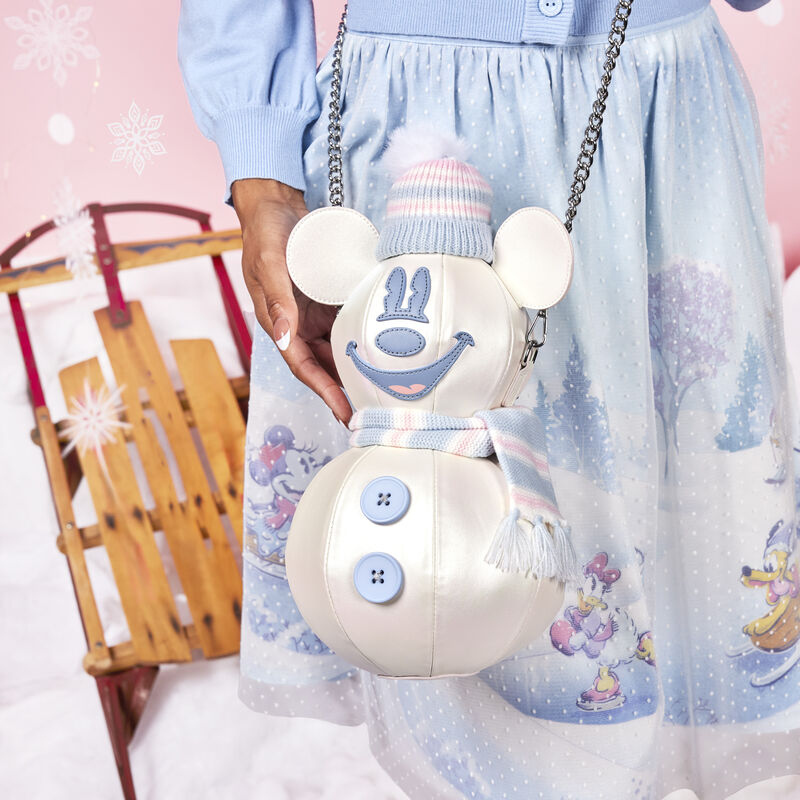 Mickey Mouse takes the form of a snowman with this crossbody! Find him bundled up in a hat and scarf with 3D buttons and ears and an applique grinning face. The crossbody strap is removable and adjustable and is attached with silver-colored metal hardware. Find two compartments in the back for your belongings. This bag makes for a seriously cute accessory for the season!
Santa Stitch Exclusive Cosplay Mini Backpack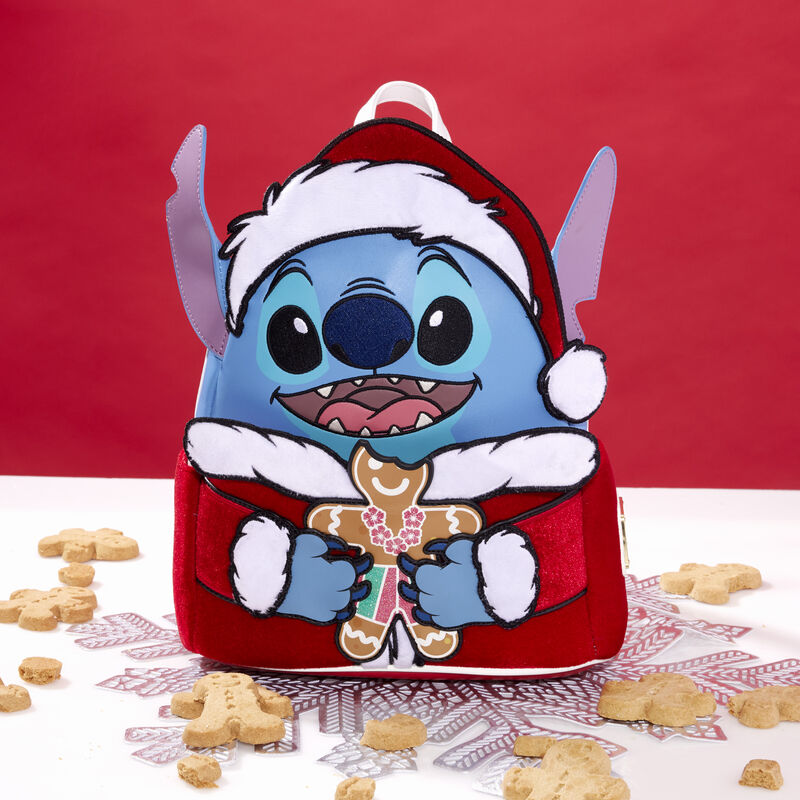 Will you make it onto the naughty or nice list? Your favorite alien experiment is ready for the holidays! Find Stitch dressed as Santa Claus holding a gingerbread cookie between his claws.
His Santa outfit has velvet and faux fur details. The cookie has iced swim trunks and a glittery lei. On the back, you'll find Scrump dressed like a reindeer! Get ready to sleigh all season with this bag!
Dr. Seuss' How the Grinch Stole Christmas! Santa Cosplay Mini Backpack
A holiday classic! Find two iconic characters from Dr. Seuss' How the Grinch Stole Christmas! on this backpack. You'll find the Grinch front and center on this backpack holding a present that doubles as a front pocket.
The Grinch's beloved dog Max pops up from behind the present. You'll find extra fun details all over the bag, including details from the Grinch's Santa costume and stars and snowflakes. On the back, you'll find an image of Max with a Santa hat on sitting by a couple of presents. It'll get you quickly into the holiday spirit!
Shop More Loungefly Holiday Styles
'Tis the season for fun holiday styles! Explore more new arrivals and get festive!