Allergic to color? Then we have a perfect collection for you that'll have you feeling like you're walking through the gates of Nevermore Academy. Our brand new Wednesday Addams collection features a mini backpack, crossbody bag, wallet, card holder, and mystery box pins.
All the accessories are inspired by Wednesday's school uniform and has the Nevermore emblem on them. Put together your perfect Addams style with these dark accessories that are available now – and you can't find them anywhere else!
Take a look and shop your favs:
Wednesday Addams Exclusive Nevermore Cosplay Mini Backpack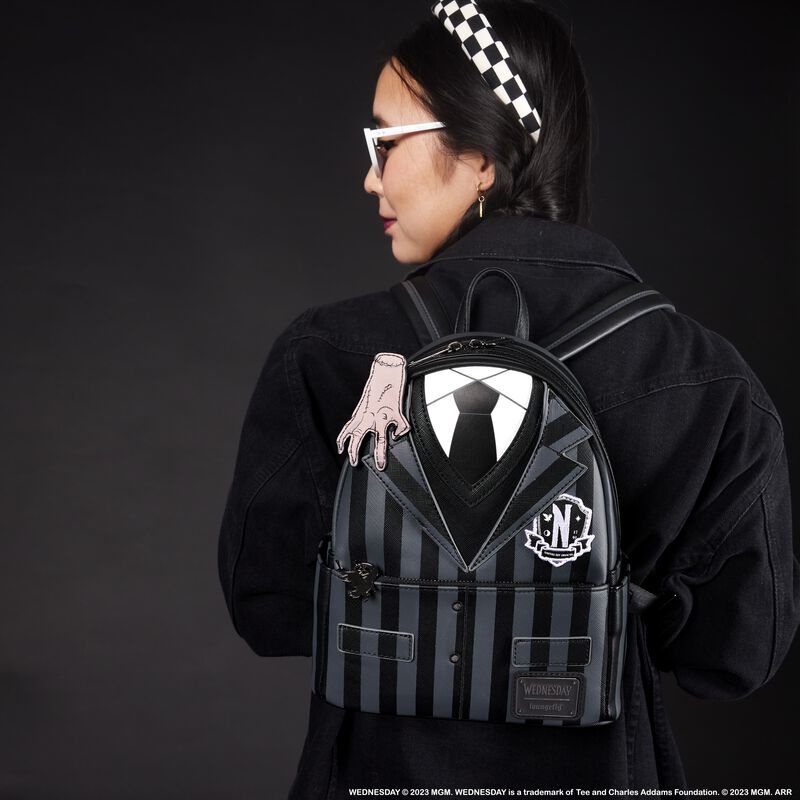 Dreadful fashion awaits you with this mini backpack. This cosplay backpack features Wednesday's school uniform with details of her white collared shirt, black tie, black sweater, and striped jacket. You'll find Thing hanging out on the right shoulder and an embroidered Nevermore Academy patch on the left side of the uniform.
The zipper pull on the front pocket is in the form of a raven. On the back panel of the bag, you'll find an image of Wednesday in her uniform with Thing on her shoulder, holding a cup of coffee. With this accessory, you'll do anything but blend in!
Wednesday Addams Exclusive Nevermore Crossbody Bag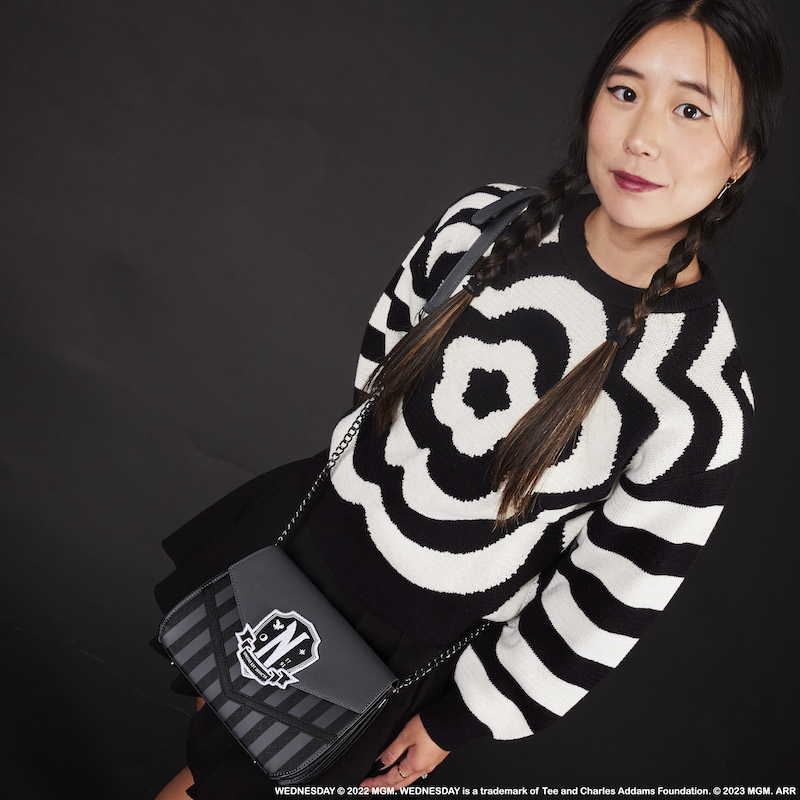 Have a mystery to solve? How awfully marvelous! This crossbody bag is styled in a similar way to Wednesday's Nevermore Academy uniform.
You'll find vertical gray and black stripes on the body of the bag, with an embroidered Nevermore Academy patch over the closure of the bag. You'll find an adjustable dark gray shoulder strap attached to the bag with a gunmetal-colored chain. Name a more iconic look – we'll wait.
Wednesday Addams Exclusive Nevermore Zip Around Wallet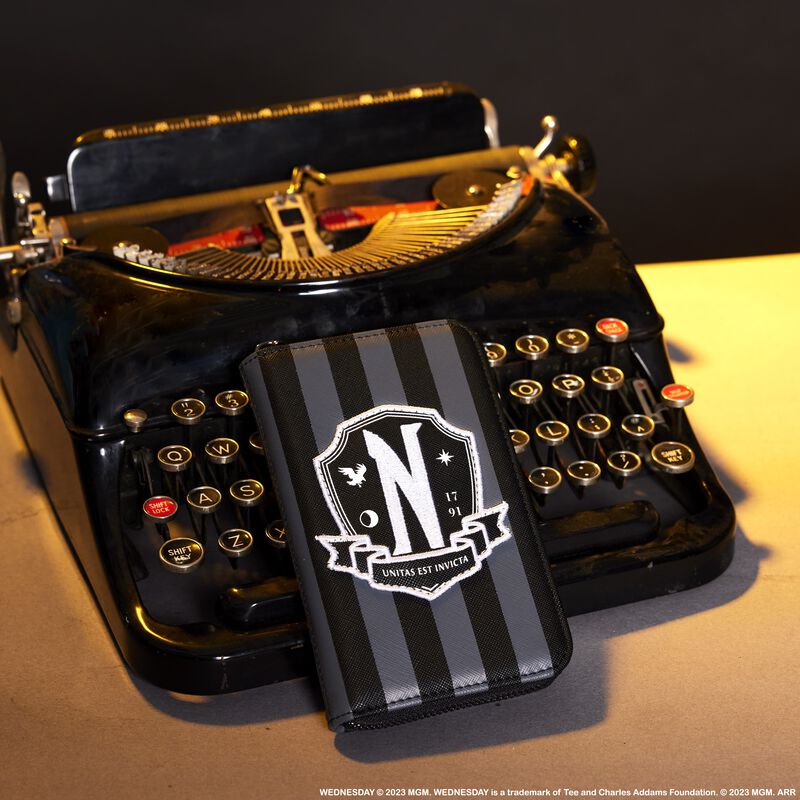 Need a little, harrowing accessory to complete your ghastly outfit? Here it is. This zip around wallet is inspired by Wednesday's Nevermore Academy uniform. You'll find black and dark gray stripes with the Nevermore Academy patch in the center.
Inside, you'll find four card slots and one clear slot for an ID. A perfect finishing touch when you're making sure to dress to kill.
Wednesday Addams Nevermore Cosplay Card Holder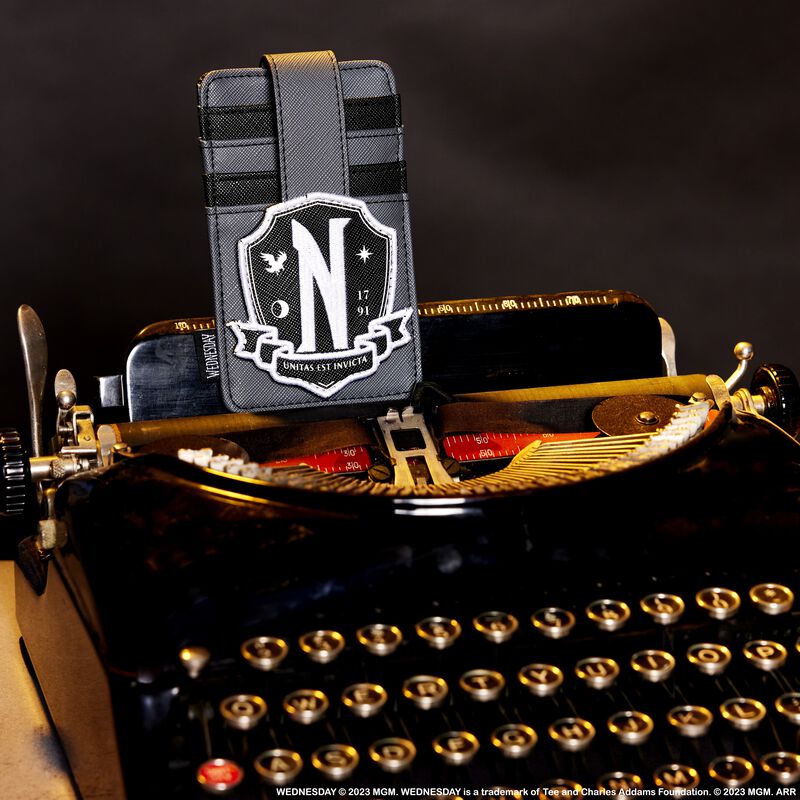 When you need to keep your secrets close… This card holder features four card slots for you to hold your essentials – whether you're heading out to work or plotting to put some piranhas in a pool.
The Nevermore Academy patch closes over the card slots to keep them safe. Turn it around and you'll find a clear slot for an ID and an image of Thing in the bottom right corner. Show off your Nevermore Academy style with a terribly fun accessory.
Wednesday Addams Nevermore Mystery Box Pins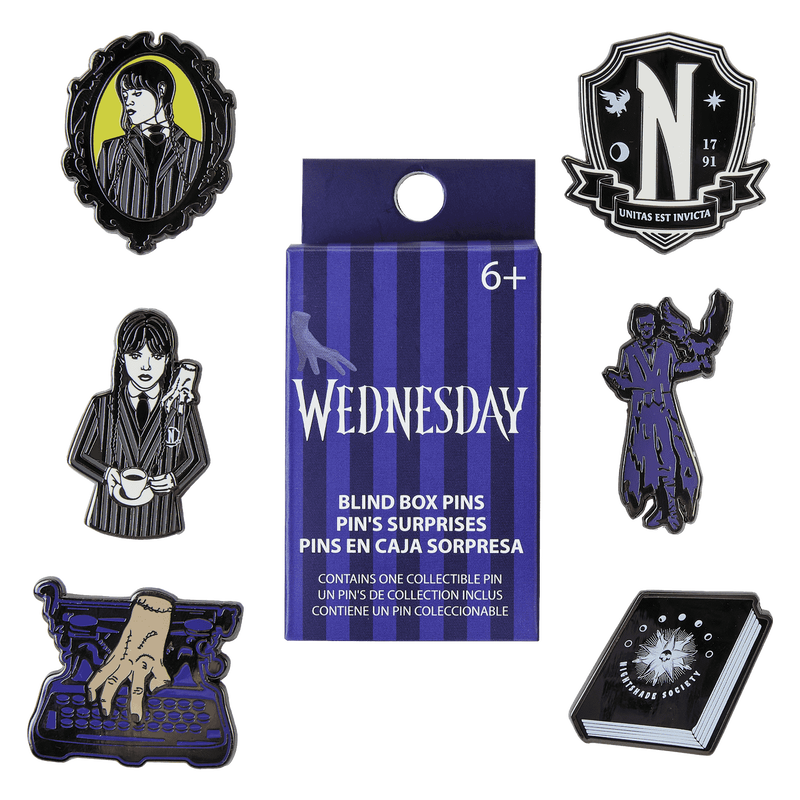 Sorry to disturb your writing time, but we think you'll really like these! Try for a chance to collect all six! There are six unique pins that are possible to get:
Thing on Wednesday's typewriter
The Nevermore Crest
A statue of Edgar Allan Poe
Wednesday holding a coffee cup
A book from the Nightshade Society
If you're extra lucky, you'll get the rare glow-in-the-dark chase pin of Wednesday – it's a 1 in 12 chance! Add personality to your outfit or your workspace with these pins!
Mondo Wednesday Addams Poster
Mondo has new Wednesday Addams posters that will be available to shop tomorrow 9/14 at 9am PDT! Check out more info here!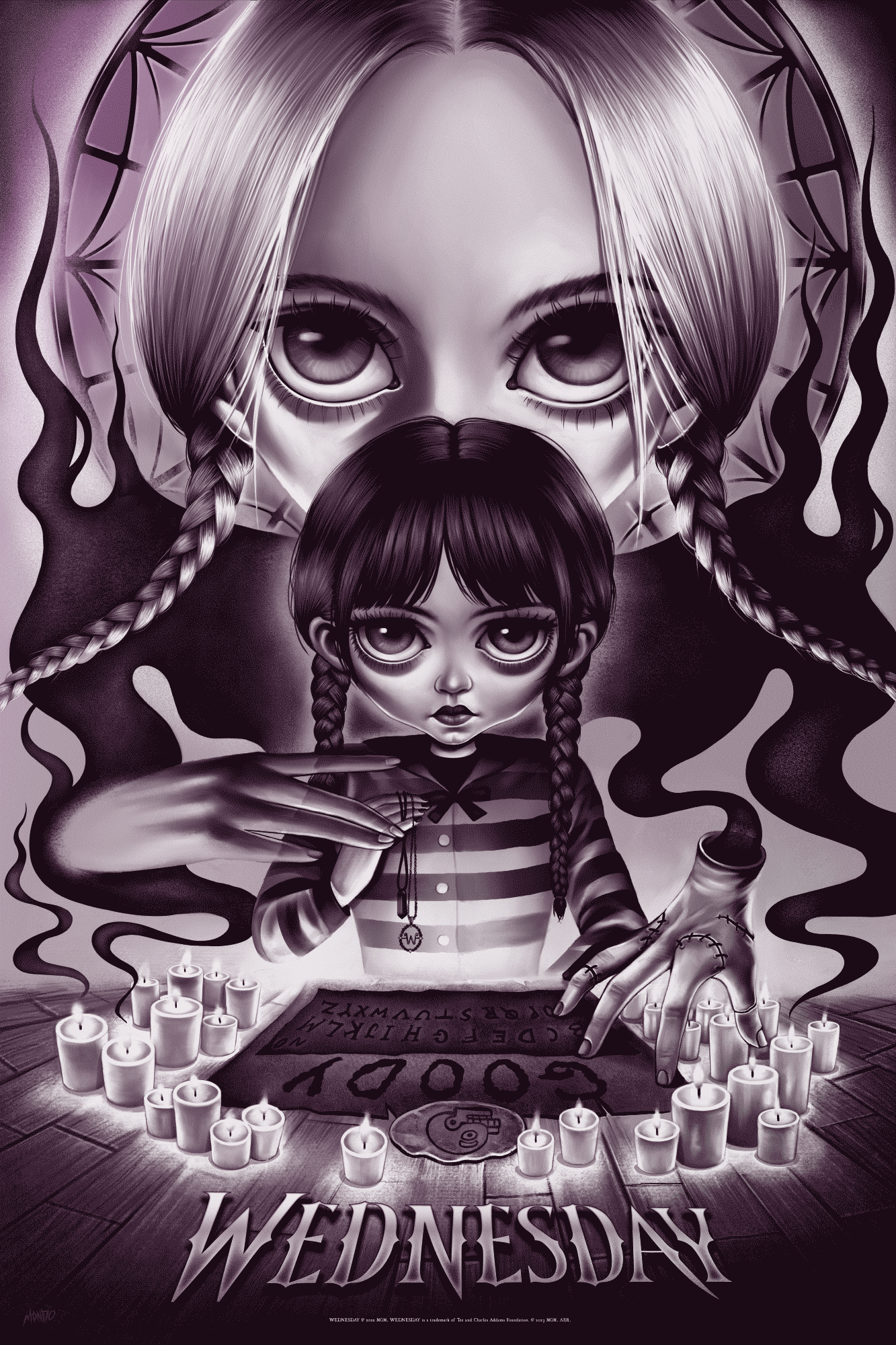 Put Together Grim Looks with the Loungefly Wednesday Addams Collection
Step into Nevermore Academy with these frightful accessories! They're all available now – and don't worry, murder mystery not included, we promise.