*Powerpuff Hotline Buzz*
Hello?!
You're not going to believe this!
We have a new Powerpuff Girls collection that brings back all the memories of your favorite cartoon! Head off to the city of Townsville to fight crime with – okay, maybe we can't offer you ultra-super powers…but how about ultra-super style?
Check out fun ways to style our new Powerpuff Girls collection to feel awesome no matter where you're off to!
Powerpuff Girls Triple Pocket Backpack & Powerpuff Girls vs. Mojo Jojo Zip Around Wallet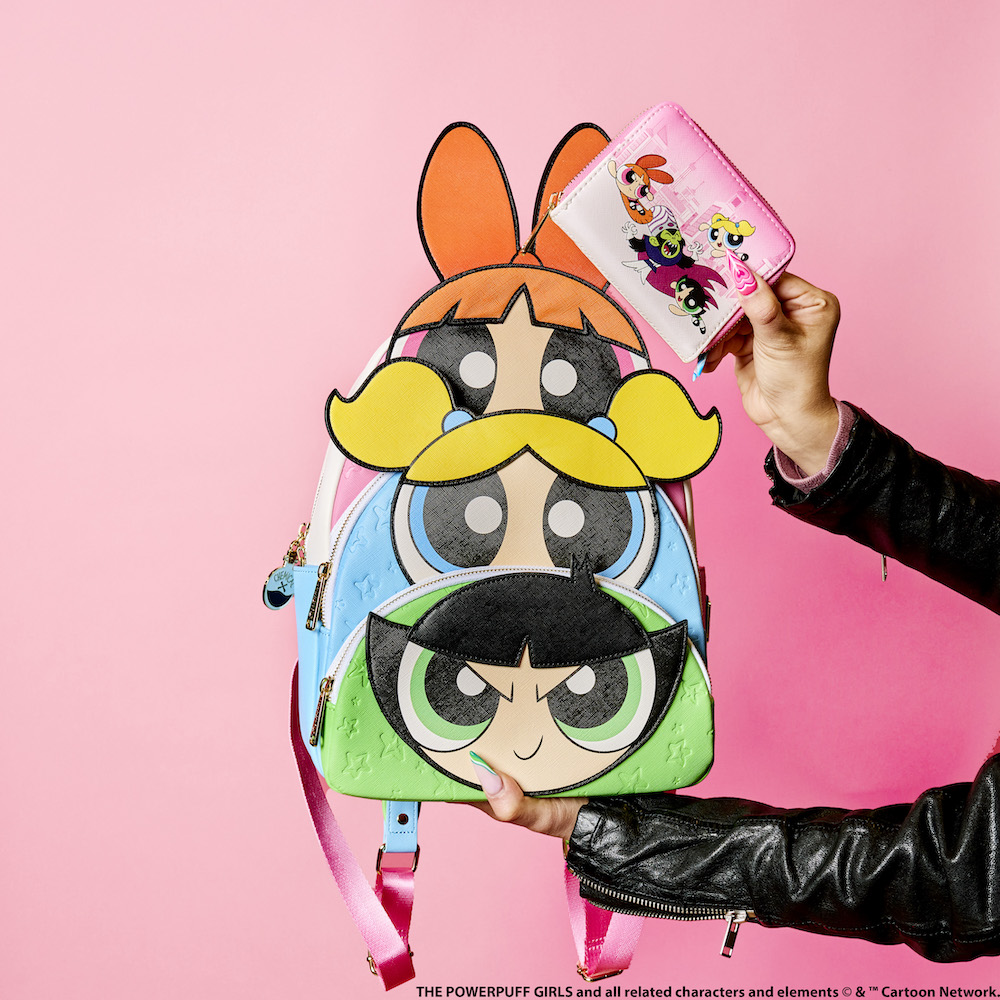 Our Powerpuff Girls backpack features a triple pocket style that shows Blossom, Bubbles, and Buttercup, and our wallet shows the trio fighting against their nemesis, Mojo Jojo. With these styles, you can embody the energy and style of any of the Powerpuff Girls. Add the wallet as the last puzzle piece to complete the look or make it the centerpiece of your entire look.
Here are some ensemble ideas to represent your favorite Powerpuff Girl:
Blossom
Blossom is the leader of the group. To embrace her style, pick a pink or red dress with ¾ length sleeves that falls to knee for a fun outfit that works for warmer weather and easily goes from work to happy hour. Another fun option is to match high-waisted trousers with a turtleneck and an oversized blazer for an ensemble that makes you look and feel like you can take on any challenge that comes your way.
Bubbles
Bubbles is the sweetest member of the group. Her style is a little cutesier and cozier than Blossom's. Reach for your favorite pair of skinny, light wash jeans and tuck in a lightweight sweater. Finish off the look by throwing a cardigan on. You can also tuck a blouse into a pleated skirt and pair it with flats for a second outfit that always looks great.
Buttercup
Buttercup is the edgy one of the group. For her style, pair a green blouse with a blazer and balance it with a pair of ripped jeans. For something a little more formal with a Buttercup edge, find a green dress that's great for a night out and throw a leather jacket over it.
Powerpuff Girls Mojo Jojo Glow Cosplay Mini Backpack and Cosplay Zip Around Wallet
This backpack and wallet set feature the main antagonist, Mojo Jojo, in applique detail. They also glow in the dark! If you're someone who prefers the villains over the heroes, this set is for you! Here are some ideas on how to style it:
Embody villainous power with a long coat of green or purple. Pair it with a white or black top tucked into trousers and accessorize with an oversized belt. You can also go for an all-black ensemble and then add a pop of color with a scarf or jewelry.
Shop the Powerpuff Girls Collection