The holidays are upon us! Are you ready to celebrate?! Whether you spend this time getting cozy and baking your favorite treats or throwing holiday parties with your friends and fam, be sure to keep the holiday spirit alive from head to toe! Check out our ultimate holiday look book for festive holiday style all season long:
Loungefly Holiday Apparel
Must-wear pieces that you can dress or up or down:
Stitch Holiday Unisex Camp Shirt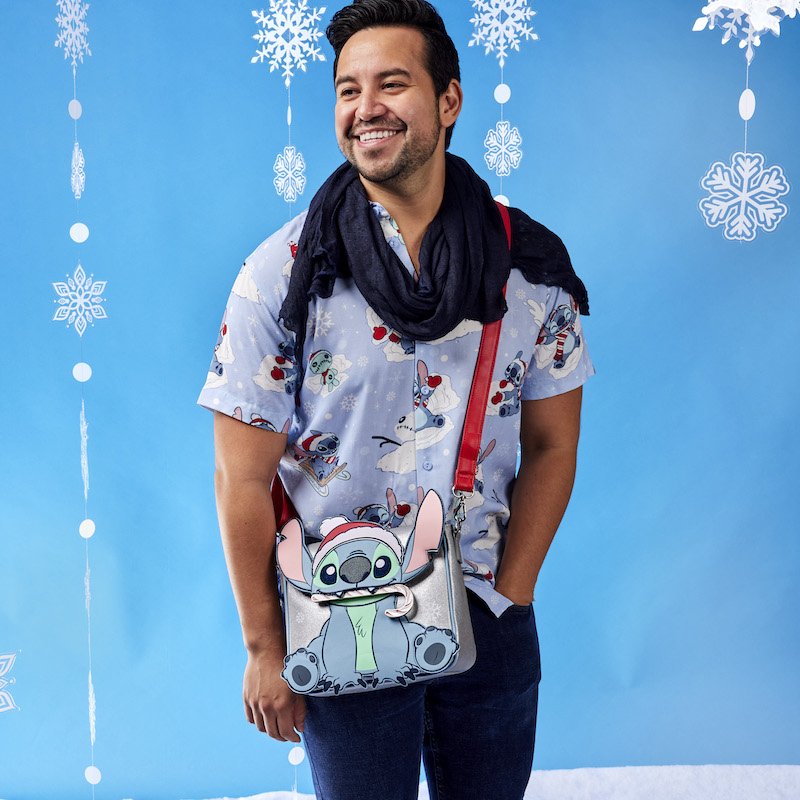 This camp shirt is a perfect casual piece for the season. On this button down, you'll find images of Stitch playing in the snow with Scrump and building a Scrump-inspired snowman. Against a light blue background, you'll find snowflakes falling.
If you want to keep it casual, pair it with your favorite pair of jeans for an easy outfit or dress it up by tucking it into a skirt. Want it cozy? Layer a white cardigan over it! Voila! An easy, festive holiday outfit.
Stitch Shoppe Mickey & Friends Winter Snow Balloon Sleeve Cardigan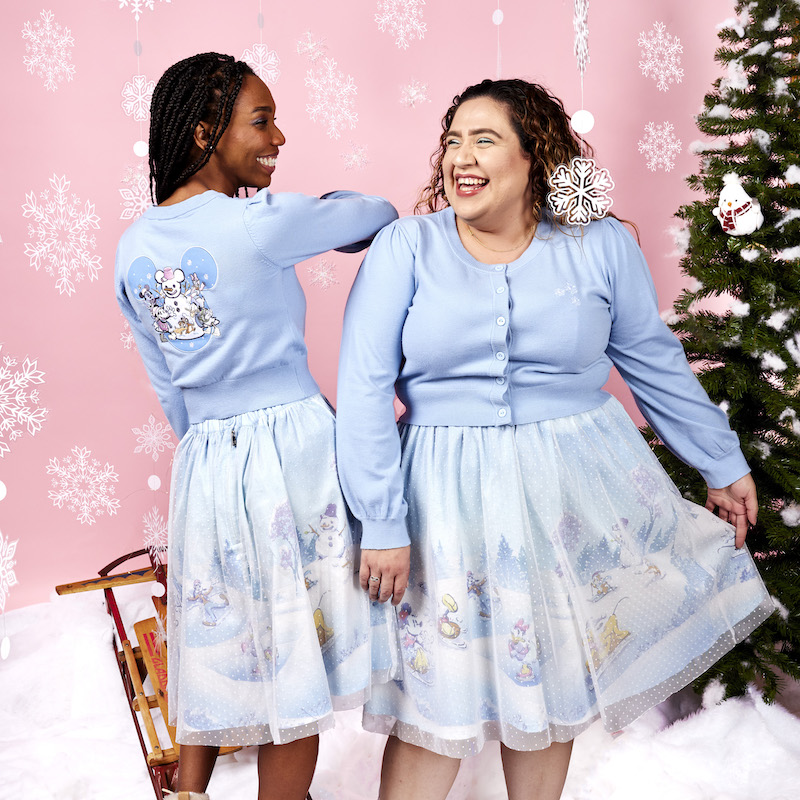 With a new holiday season comes a new look! This is a new silhouette for Stitch Shoppe – our balloon sleeve cardigan! This pale blue cardigan buttons closed and has embroidered snowflakes on the front on the upper left side. On the back, you'll find a snowy scene inside of a Mickey applique. Mickey and friends build a Mickey-shaped snowman!
For a cute, dressy look, you can pair it with our Mickey & Friends Winter Snow Tulle Overlay Skirt. You can also pair it with your favorite black or white skirt from your closet. Dress it up with heeled shoes or keep it casual with a pair of sneakers.
Stitch Shoppe Mickey & Friends Winter Snow Tulle Overlay Skirt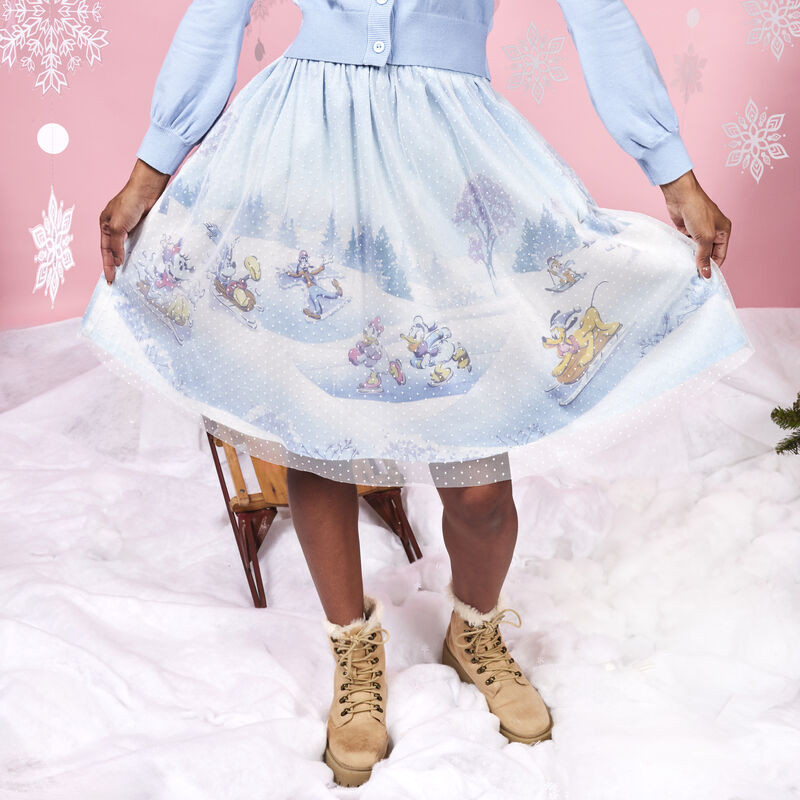 A winter wonderland comes to life on this skirt! You'll find a wintery scene with Mickey and friends doing winter activities, like sledding, ice skating, and making snow angels.
A tulle overlay with flocked snow on it completes the scene. It matches perfectly with our Mickey & Friends Winter Snow Balloon Sleeve Cardigan, but you can also pair it with a flowy white blouse.
Mickey & Friends Gingerbread House Unisex Hoodie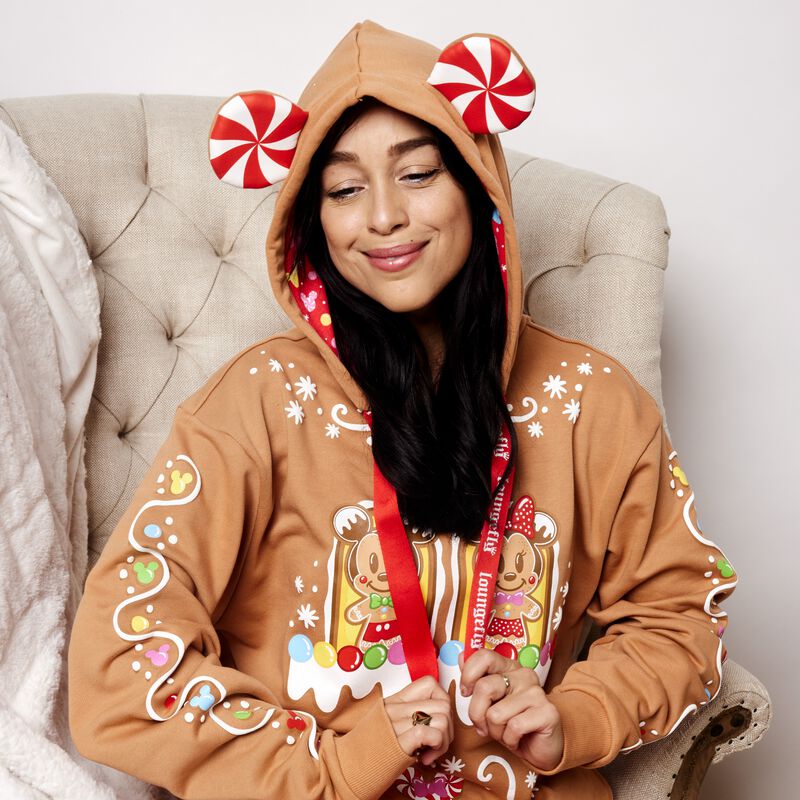 Cozy and cute! For when the weather is chilly, this is a must-have! This hoodie has gingerbread house details, like swirls of icing and candy decorations. You'll find Mickey and Friends as gingerbread cookies on it!
Keep it cozy whether you're out and about or hanging inside with a pair of warm leggings and boots or wear it oversized as a dress with knee high boots for a cool look.
Loungefly Holiday Accessories
The cutest bags to finish off your ensemble:
Stitch Shoppe Mickey Mouse Exclusive Winter Snowman Iridescent Figural Crossbody Bag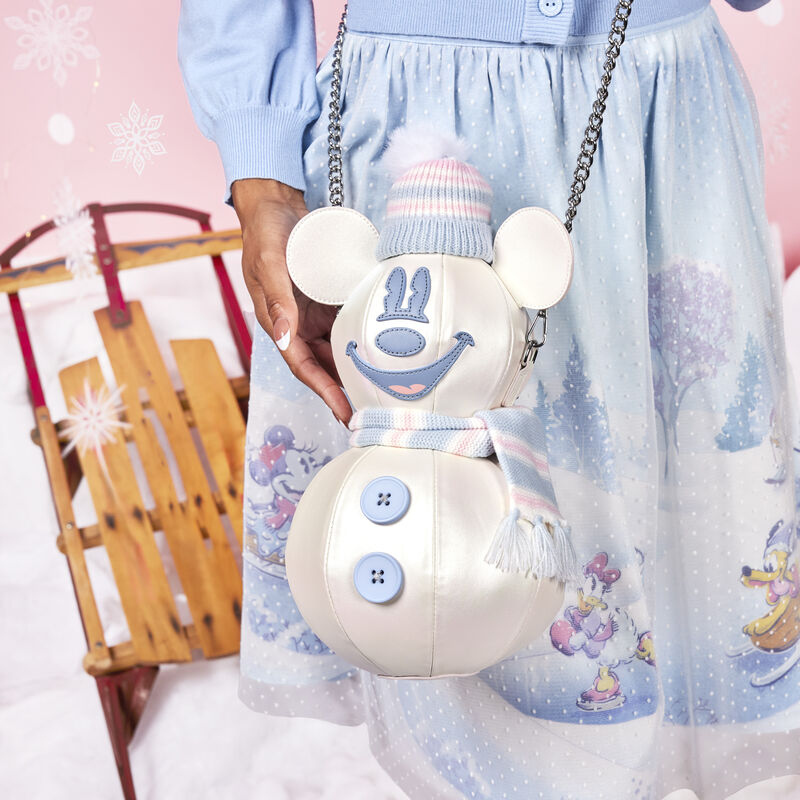 It's too cute! This bag is ready for wintertime! It's figural in the shape of a Mickey Mouse snowman, complete with grinning face, 3D buttons, hat, and scarf! You'll find two zipped compartments on the back to store your goodies. This makes for a really festive piece that works all holiday season.
Mickey & Friends Gingerbread Cookie All-Over Print Mini Backpack with Ear Headband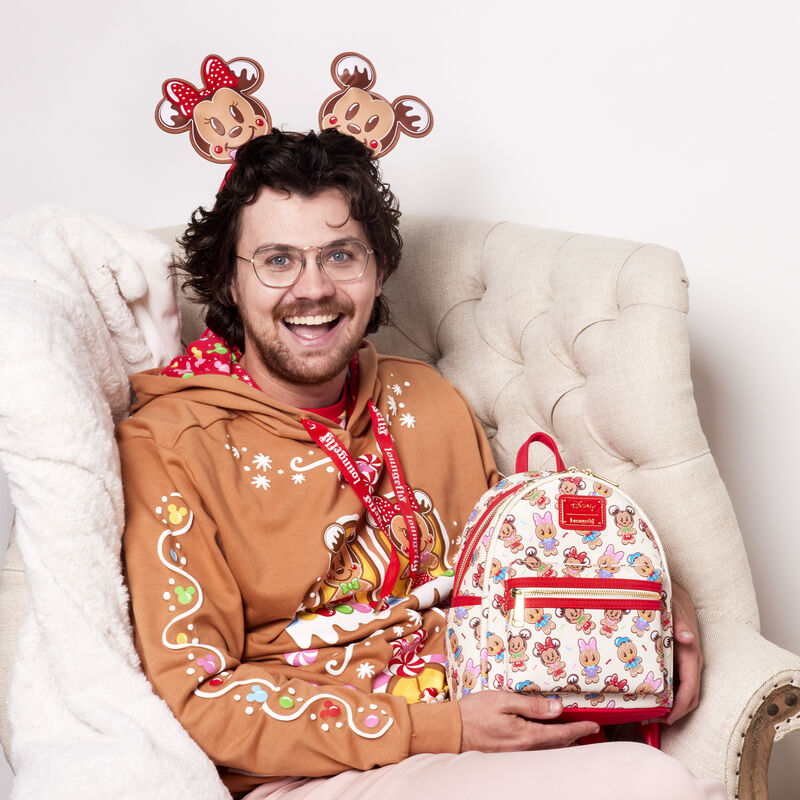 The season isn't complete without some gingerbread goodness! This mini backpack has an all-over print of Mickey and Friends as gingerbread cookies, surrounded by sprinkles. Red highlights the zippers, side pockets, base, and straps.
There are three compartments: a front pocket, a main pocket, and a secondary pocket to hold your ear headband! The ear headband comes with the bag and has Mickey and Minnie as gingerbread cookies attached to it to complete the look.
Pair it with our Gingerbread House Unisex Hoodie or make it your go-to accessory for a red holiday dress.
Minnie Mouse Exclusive Red Glitter Tonal Mini Backpack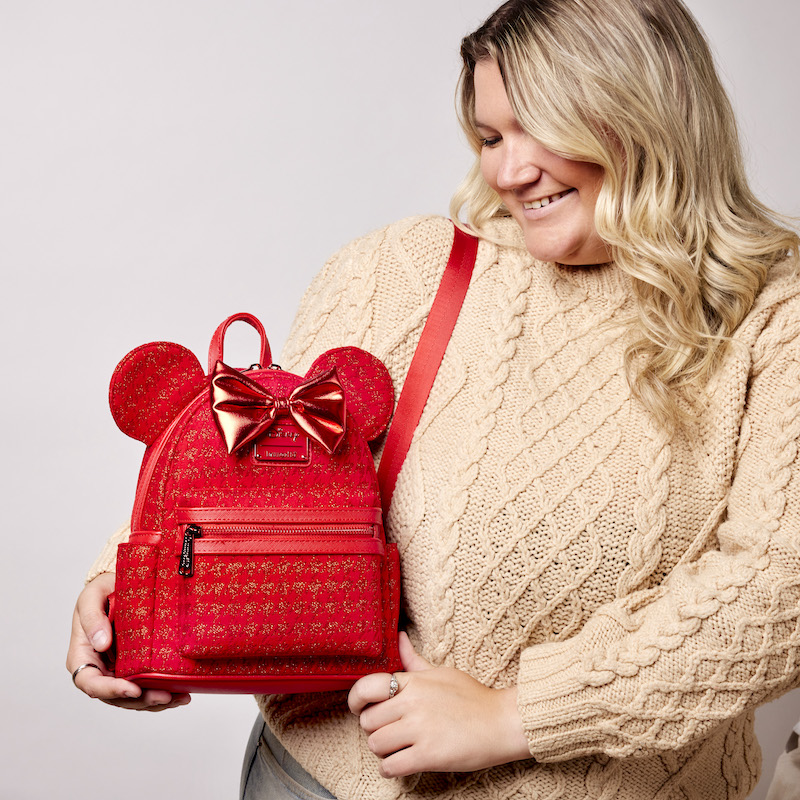 It doesn't get more holiday than this! This mini backpack has an all-over red houndstooth print with red glitter. You'll find Minnie's ears sticking up from the top of the bag and a shiny red bow in the center.
This goes with any holiday outfit you pull together and is a multifaceted accessory you can bring to a fancy party or a casual day out.
Also coming to FunkoEurope.com 10/16!
Minnie Mouse Hanukkah Sequin Crossbody Bag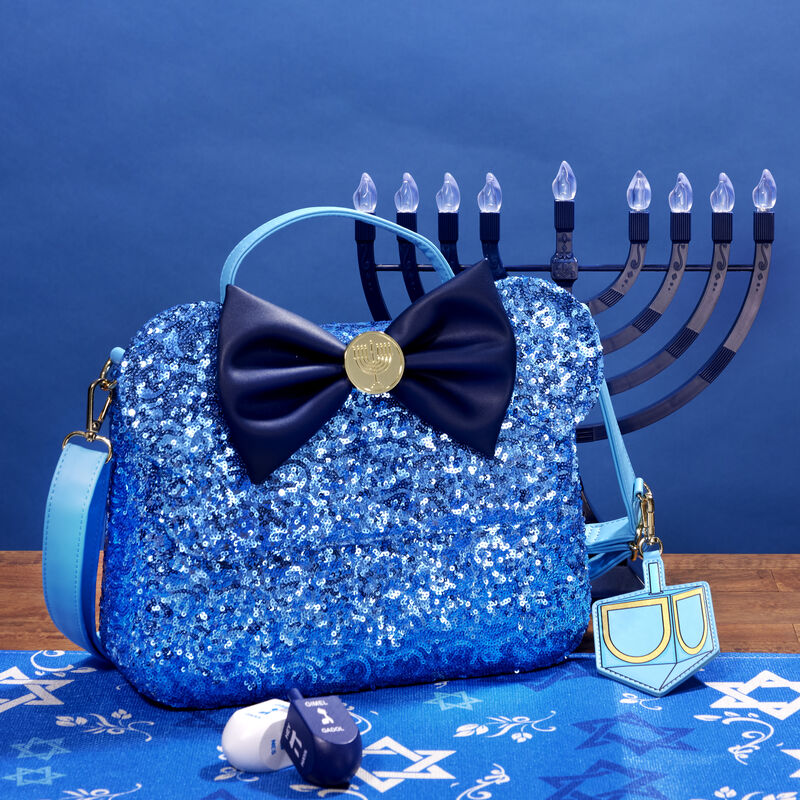 This beautiful, glittering Hanukkah crossbody is ready to be your go-to for the season! This crossbody is covered in blue sequins and has 3D Minnie Mouse ears sticking up from the top. Between them, you'll find a dark blue bow with a golden menorah in the middle.
The crossbody strap is light blue and has a dreidel charm attached to it! Pair it with a cute blue dress or add it to any holiday ensemble you have ready to wear!
Shop More Holiday Loungefly
Looking for more? Whether you're starting your holiday shopping already or are just ready to get the cozy vibes going, check out all of our new holiday styles: