Can't get enough of Disney? Neither can we! This new collection is extra special because we have BRAND NEW items – stationery journals, pencil cases, and a return of our tote bag style!
Take a closer look at these new products:
New Loungefly Disney Stationery
Disney100 Mickey & Friends Classic Lunchbox Stationery Journal
Have some notes to take down or thoughts to write? We officially have stationery! This new journal is in the shape of a lunchbox, complete with handle for easy carrying and an elastic loop for whichever writing utensil you prefer.
The front is teal with a pink border and features Daisy Duck, Donald Duck, Goofy, Mickey Mouse, Minnie Mouse, and Pluto. The back is red and features Mickey, Minnie, Pluto, Mickey's glove, and Disney100 as stickers!
Open it up and you'll find thermos-shaped sticky notes ready to use on the inside cover! You have 150 lined pages to write whatever you'd like – the possibilities are endless!
Disney100 Mickey & Friends Classic Stationery Spiral Tab Journal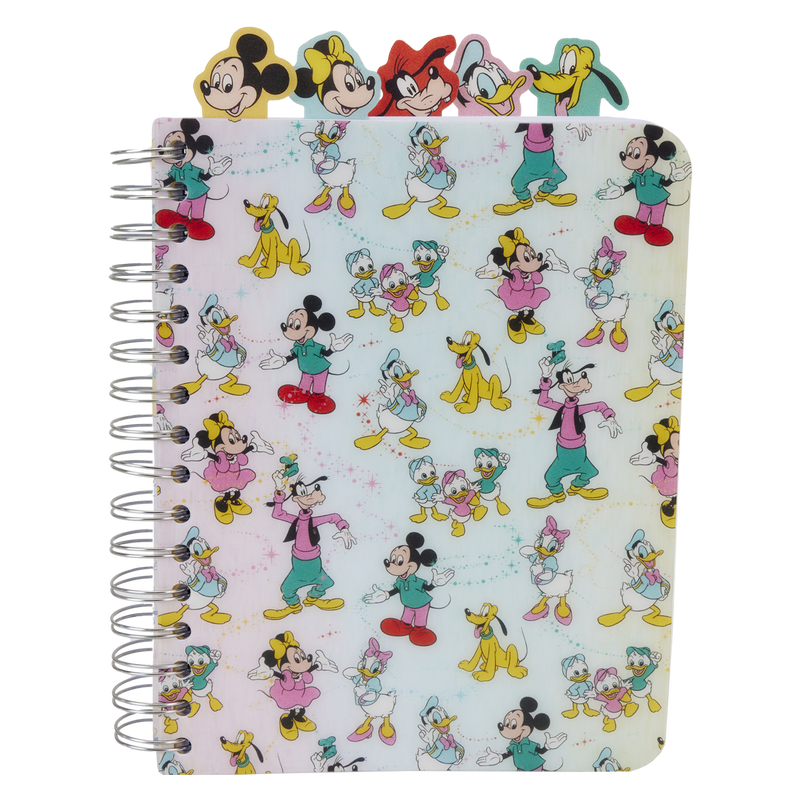 Raise your hand if you love a good spiral bound notebook! You'll find all your favorite characters on the front and back of this notebook. You can keep your thoughts organized with page dividers and tabs of Mickey Mouse, Minnie Mouse, Goofy, Donald Duck, and Pluto! Each page divider features a full-page image of that character. Each page is lined and features a watermark of Mickey's head – all ready for you to share your thoughts!
Disney100 Mickey & Friends Classic Stationery 3-Ring Binder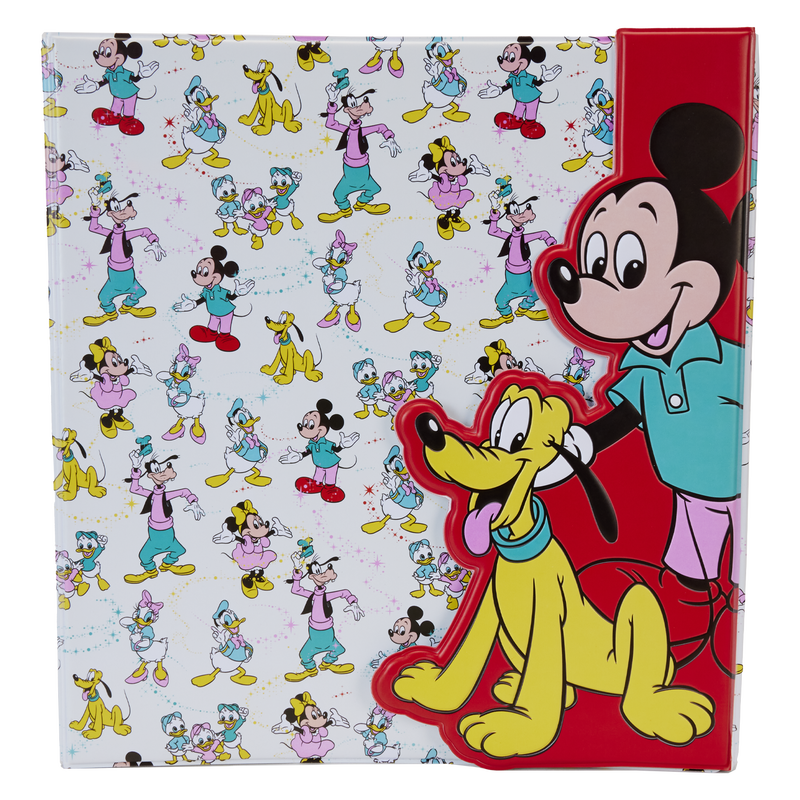 For when you want full control over your organization, this binder is for you! It features the same pattern on the front as the lunchbox journal and spiral tab journal but has a closure tab featuring Mickey Mouse and Pluto. Open the three rings to slot in your own loose-leaf paper. It's the perfect accessory to keep all your creative ideas organized!
Disney100 Mickey & Friends Classic Stationery Pencil Case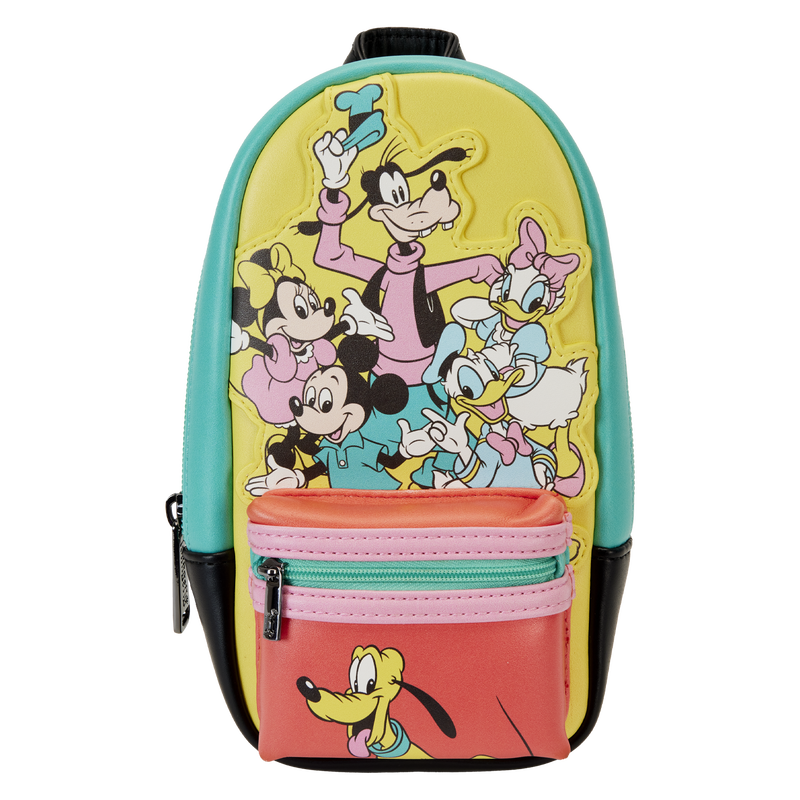 With all these places to write down whatever you need, you'll need a place to put your favorite writing utensils! Whether you prefer pencils, pens, or maybe even an erasable pen (remember those?), you can fit it all in this case so you're never without what you need!
This case has a color block style of yellow, teal, pink, black, and red. You'll find Pluto on the front mini pocket. Above it, you'll find an applique of Mickey Mouse, Minnie Mouse, Goofy, Daisy Duck, and Donald Duck. Don't need to carry around pencils or pens? You can attach it to whatever bag you like and fill it with necessities that need safe keeping!
Disney100 Minnie Mouse Classic Cosplay Plush Stationery Journal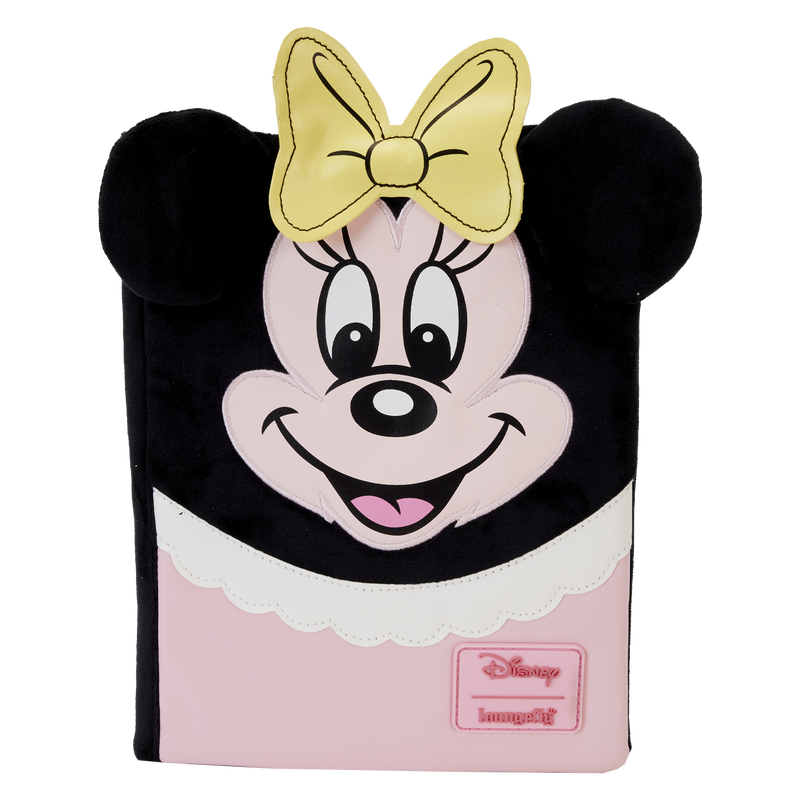 Take Minnie with you everywhere! This journal has 150 lined sheets of paper for you to use for whatever you like – jotting down brilliant ideas, taking meeting notes, or journaling about your day. On the back side of the journal, you'll find a zippered pocket that can hold your phone, writing utensils, and sticky notes. And once you've filled the notebook, you can take it out of the plush cover and insert a new journal, so Minnie can stay a trusty working sidekick!
New Loungefly Disney Accessories & Apparel
Disney100 Mickey & Friends Classic All-Over Print Iridescent Mini Backpack with Ear Headband
Your Disney favs are all over this mini backpack! It shines in iridescent material and Mickey, Minnie, Goofy, Donald, Daisy, Pluto, and others appear all over. This bag comes with its own pair of ears, which feature Mickey and Minnie. A removable corduroy bow is in the center. When you want to take off the headband, you can secure it over the circular front pocket! With color block style highlights, it makes for a super fun accessory for all your adventures!
Disney100 Mickey & Friends Classic All-Over Print Iridescent Zip Around Wallet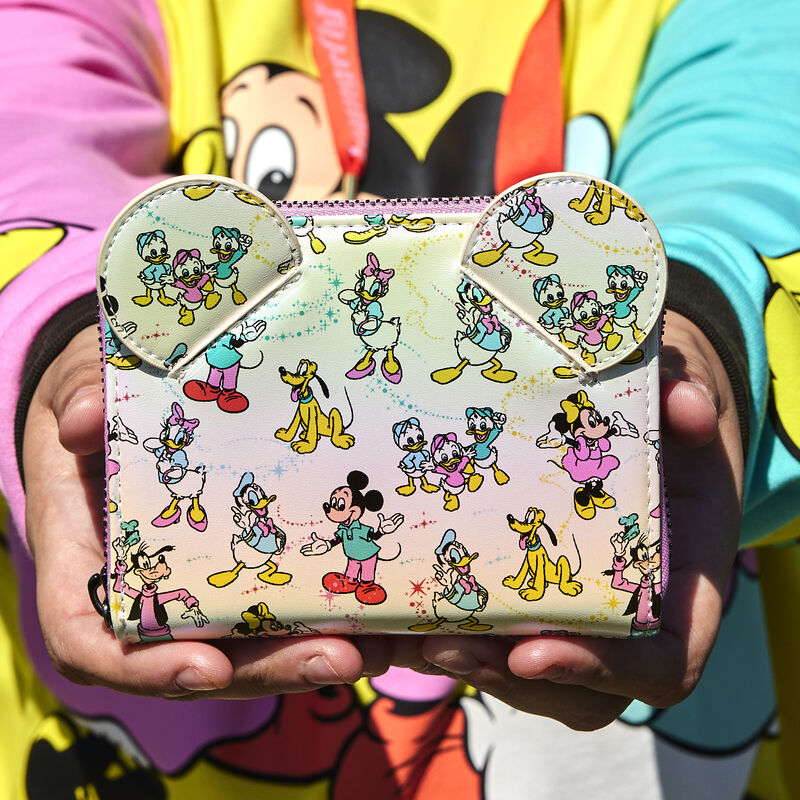 The perfect little accessory to take with you and complete your outfit! This wallet is made from the same iridescent material with an all-over print of your favorite Disney characters. It even has two applique Mickey ears that pop up on the corners. Inside, find four colorful card slots and one clear slot for an ID. The cutest little accessory that's a perfect finishing touch for your everyday!
Disney100 Mickey & Friends Classic All-Over Print Iridescent Convertible Tote Bag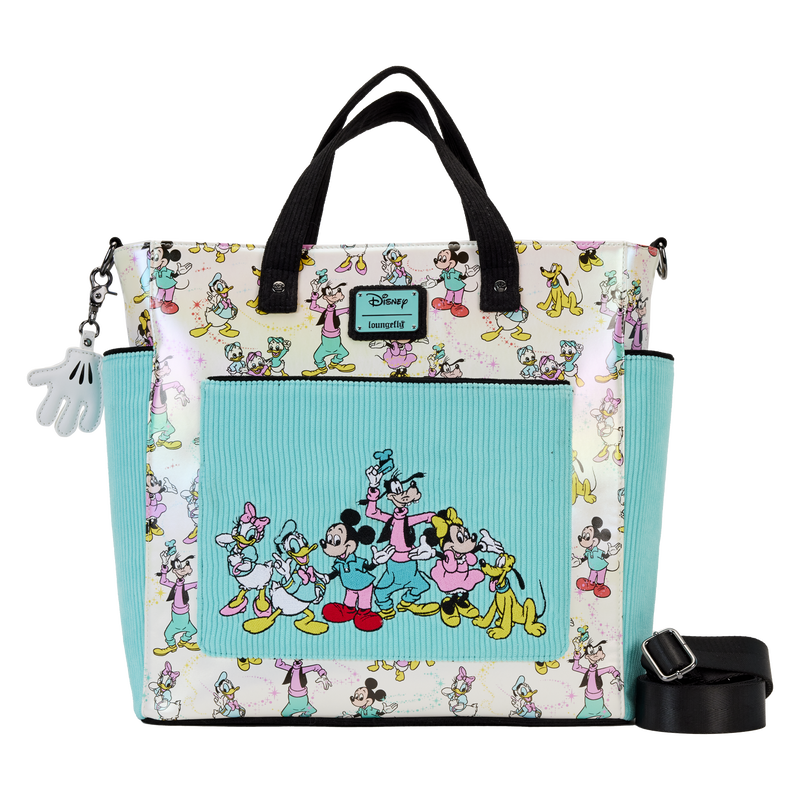 They're baaaack! If you've loved our tote bags in the past, you'll love these new convertible tote bags! We've missed totes as much as you. This one is really fun and has the same iridescent material as the wallet and the backpack, with teal corduroy highlights on the front and sides.
You'll find your favorite Disney characters all over the bag, and Daisy, Donald, Mickey, Goofy, Minnie, and Pluto are gathered together on the front teal pocket. Multiple straps are included so you can transition from a crossbody to a backpack whenever you want!
Disney100 Mickey & Minnie Classic Gloves Crossbody Bag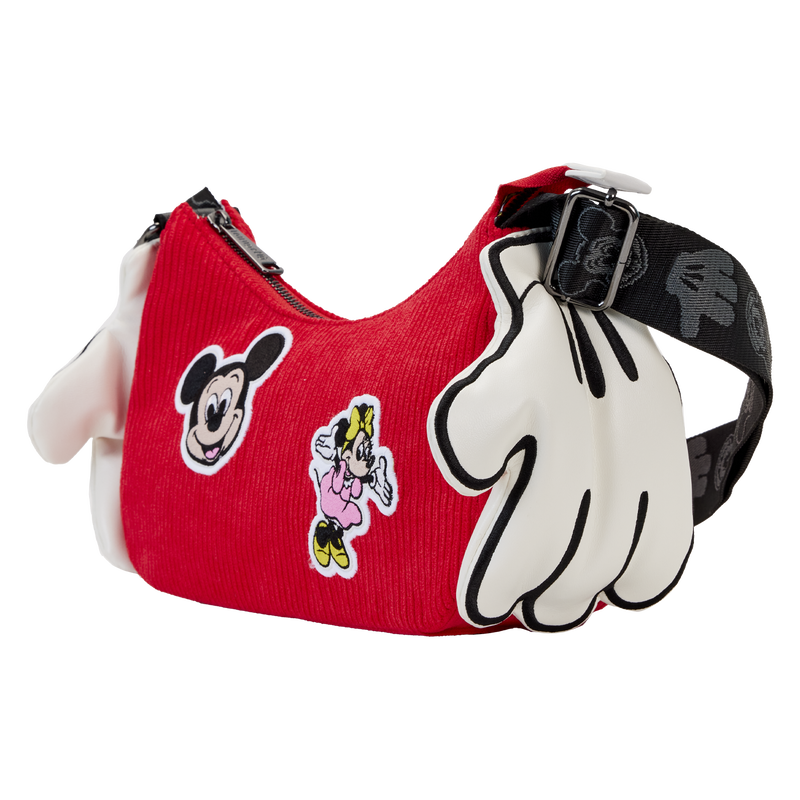 A new baguette style bag awaits you! This bag is red corduroy and has embroidered patches of Mickey, Minnie, and Disney100. On either end of the bag, you'll find puffed appliques of Mickey Mouse's gloved hands. This is a fun classic Disney style for all occasions!
Disney100 Mickey Mouse Classic Corduroy Convertible Mini Backpack & Crossbody Bag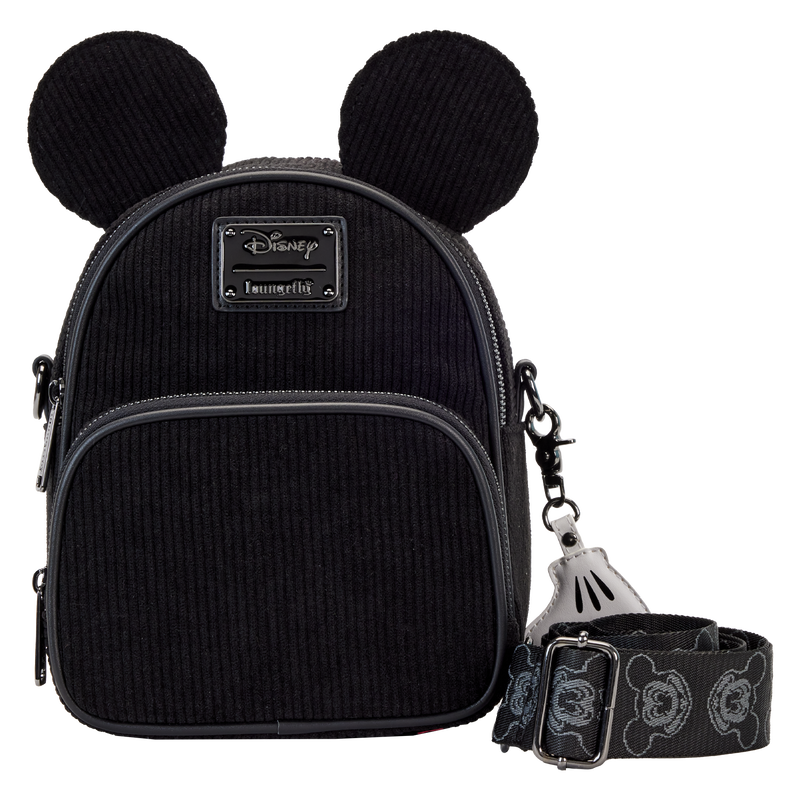 Effortless fashion in a tiny container! This tiny bag is smaller than our usual Loungefly style, is made from corduroy material, and has two cute 3D Mickey ears sticking up from the top! Find a vegan leather zipper charm of Mickey's gloved hand.
The strap on this bag features Mickey Mouse's face, and you can hook it and unhook it to convert it from a crossbody to a mini backpack! It's a super cute essential that'll go with any outfit.
Disney100 Mickey & Friends Classic Color Block Unisex Hoodie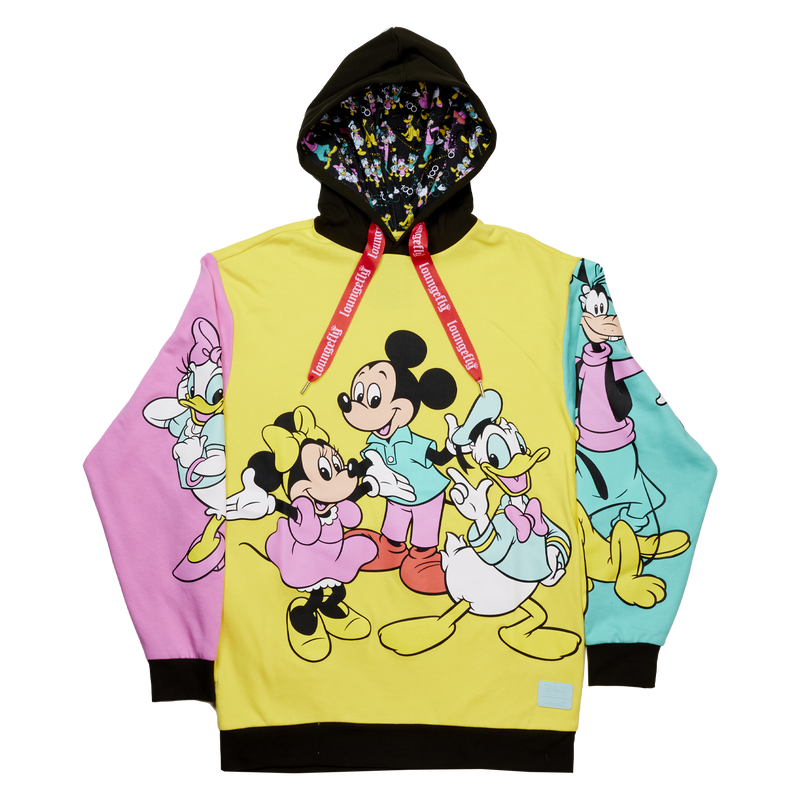 Color block perfection! The gang is all here on this unisex hoodie – find Daisy, Minnie, Mickey, Donald, Pluto, and Goofy across the front and sleeves of the hoodie. The body of this hoodie is yellow with one pink sleeve and one teal sleeve.
Black accents are on the bottom, cuffs, and on the hood. The lining of the hoodie features all your Disney favs! You'll find two side pockets on this hoodie instead of one center one. Make a bright statement with this piece!
Put Together Your Ultimate Disney100 Style with Loungefly
We have a ton of styles for you to show off your love for Disney and celebrate Disney100 – no matter what your vibe is! Explore all our collections, from classic Disney looks to glittering, holographic styles.