Hellooooo June! Are you ready to jump into this month's new styles? Then get excited, because we have some awesome collections that are out now for you!
Love Stranger Things? Got you covered.
Looking for more Disney? On it.
Sanrio fan? We have just the thing.
Want new Marvel? Got that, too.
Dreaming of new Looney Tunes? We have it!
New month = new Loungefly! Check out some of our newest collections you don't want to leave behind: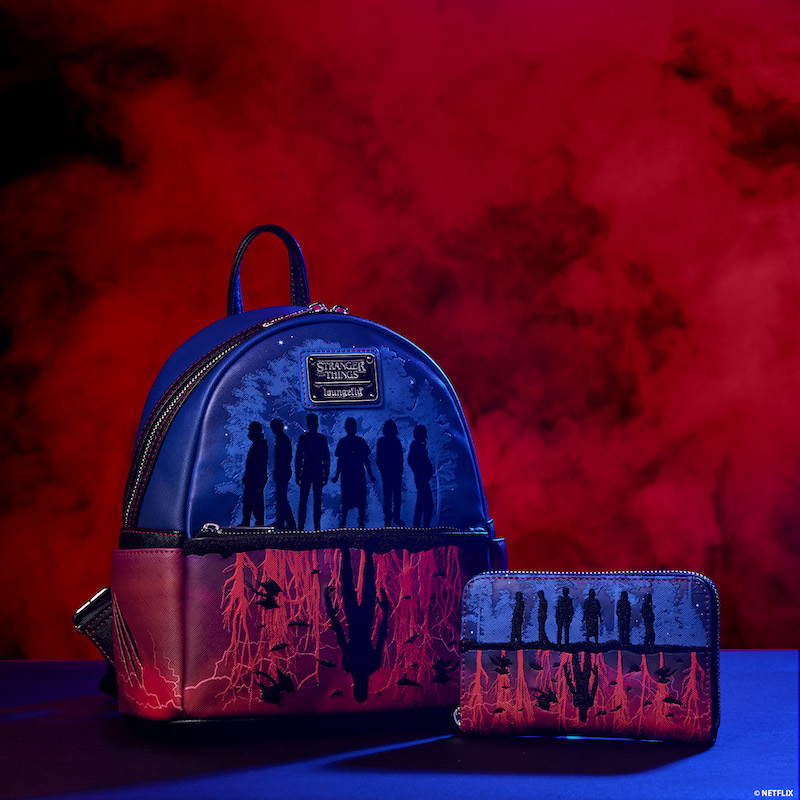 Stranger Things Upside Down Shadows Collection
Be careful out in the woods near the lab… you may come face to face with a Demogorgon. Or worse. This collection features a mini backpack and zip around wallet that shows the world of Hawkins and the Upside Down. Find the silhouettes of Dustin, Will, Lucas, Eleven, Mike, and Max against a blue background and underneath them, you'll find Vecna in the Upside Down on a red background surrounded by lightning and Demobats. On the back, you'll find the words "A War Is Coming to Hawkins." The backpack features an encore image of Vecna on the back, too.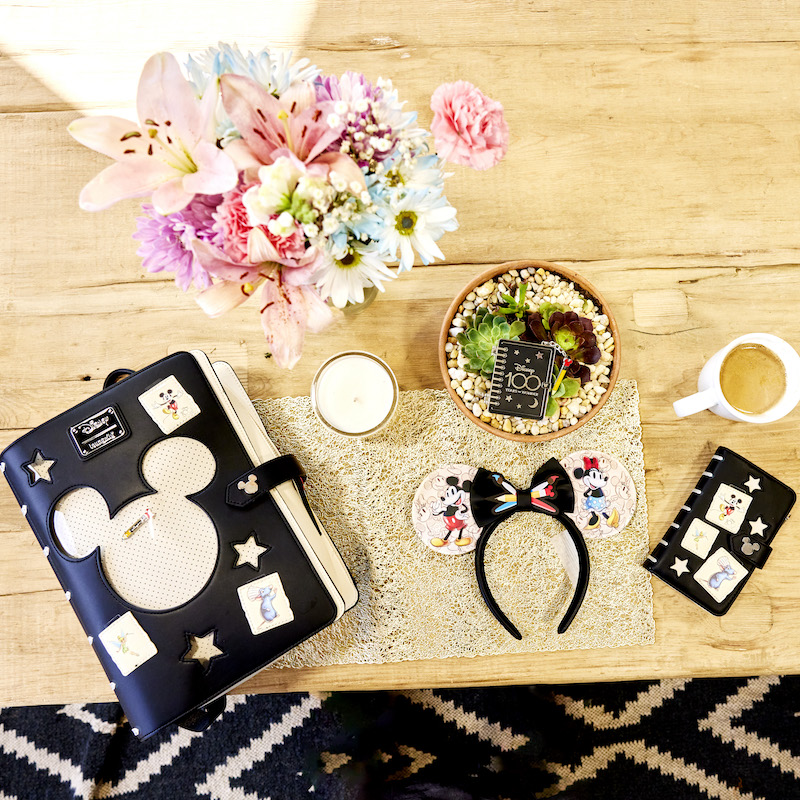 Disney100 Sketchbook Collection
The only limit is your imagination. This collection celebrates 100 years of Disney wonder with a fun collection inspired by classic Disney animation. The backpack and wallet are in the shape of sketchbooks, and the backpack is also a pin trader backpack! Within the front flap, you can display your pins and get ready to trade them! On each piece of this collection, you'll find sketches of your favorite Disney characters.
The ear headband features Mickey and Minnie on the ears and the bow has details of paint brushes and a pencil. The bow is removable so you can customize your style whenever you like! A 3" Collector Box Pin is also included in this collection. It's in the shape of a sketchbook and has a pencil keychain attached. Open up the pin to reveal more Disney sketches. This collection is ready to inspire you to create!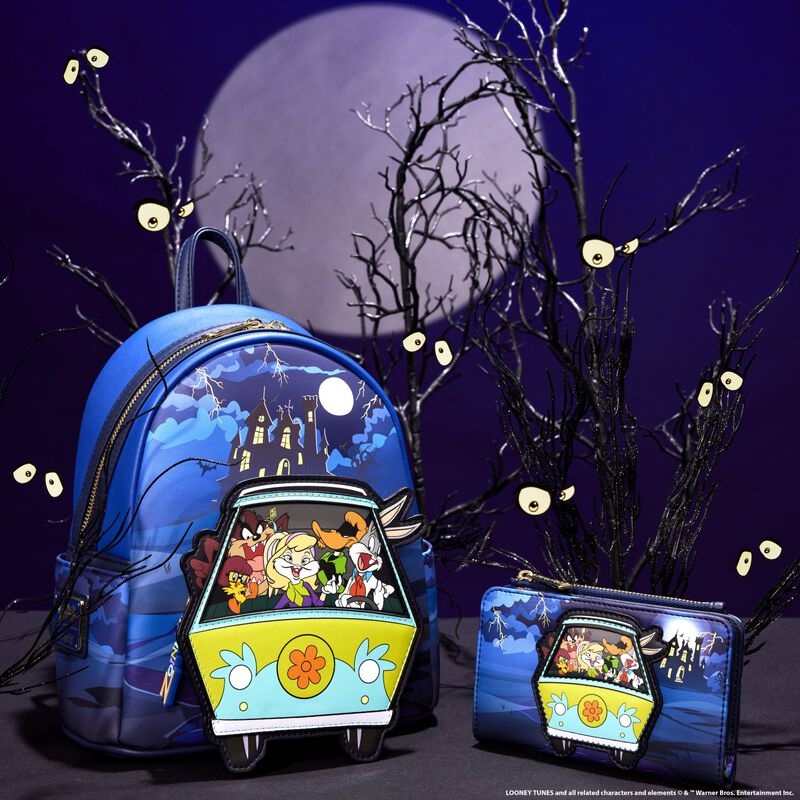 Warner Brothers 100th Anniversary Looney Tunes & Scooby Mashup Collection
Celebrate 100 years of WB with this mini backpack and wallet! This collection is extra special because it's the first time WB has allowed a character mashup! You'll find your Looney Tunes favorites on this bag dressed as characters from Scooby-Doo, driving in the mystery machine with a scary castle in the background. There are glow-in-the-dark details and the plaque has the WB 100th Anniversary logo on it. This collection is ready to celebrate 100 years of WB with you!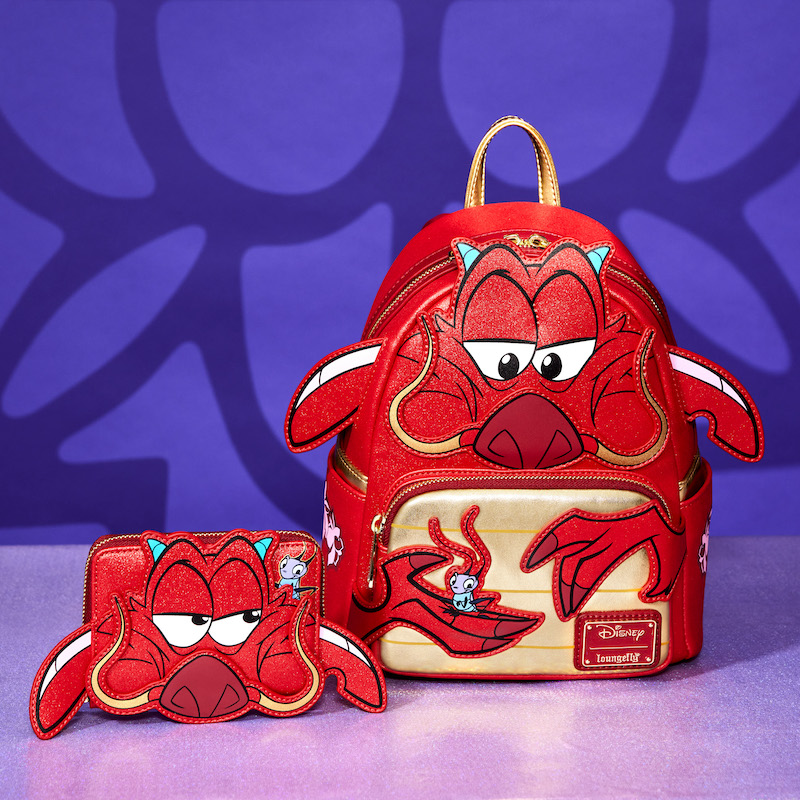 Mulan 25th Anniversary Mushu Glitter Cosplay Collection
Don't stop the party – we have another celebration! We're toasting to the 25th anniversary of Disney's Mulan! This collection has a mini backpack and wallet featuring Mushu and Cri-Kee. Both are made from glittering faux leather and have gold foil details that pop! You'll also find pink blossoms and the Crest of the Emperor on both. Take these around as a reminder to be true to who you are and that adventure is around every corner.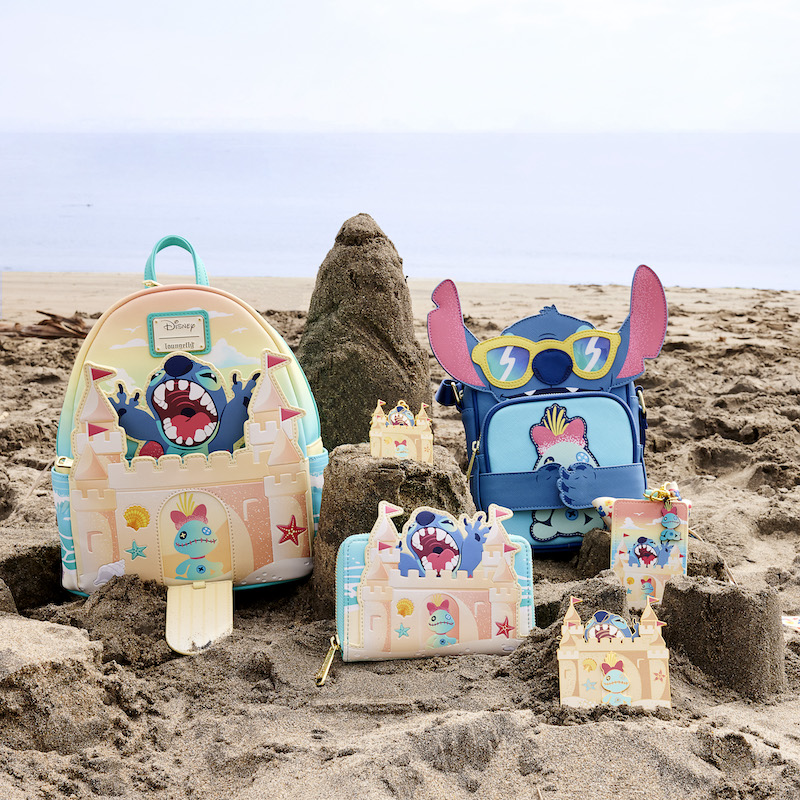 Stitch Sandcastle Beach Surprise Collection
Grab your shades and a towel, it's time for some fun in the sun! This collection is ready to kickstart summer with you. There are several pieces in this collection: mini backpack, zip around wallet, 3" Collector Box Pin, lanyard with card holder, and a keychain.
They all feature a perfectly made sandcastle with Scrump in the front and Stitch popping up from behind the front wall. On the backpack, the front door of the castle actually opens to reveal Scrump behind it. Whether you're hitting the beach for a sandcastle building contest or daydreaming about when you can next hit the pool, every piece of this line is ready to be by your side.
There's More Where That Came From – New Arrivals at Loungefly
Want to see what else just dropped for June? Check out the rest of our new arrivals and find your perfect style for the start of summer and beyond!