Who's ready for the holiday season?! It's never too early to get into the spirit and start planning what you're going to wear come November! We have some really exciting collections dropping in October – including some non-holiday-themed accessories you'll want to check out (looking at you, BTS!).
Take a look and see what catches your eye, and be sure to sign up to get notified when they drop so you don't miss a thing!
Mickey & Minnie Gingerbread Cookie Crossbody Bag
Is there anything that screams "holiday" more than a gingerbread cookie? This deliciously sweet crossbody bag features Mickey and Minnie Mouse as gingerbread cookies. You'll find Minnie on one side with a cute pink bowtie and a polka dot bow on her head.
Turn it around and you'll find Mickey on the other side with a green bowtie. Both have cute icing details on their ears with embroidered sprinkles! This makes for a perfect holiday accessory for the season!
Mickey Mouse Hanukkah Sequin Glow Mini Backpack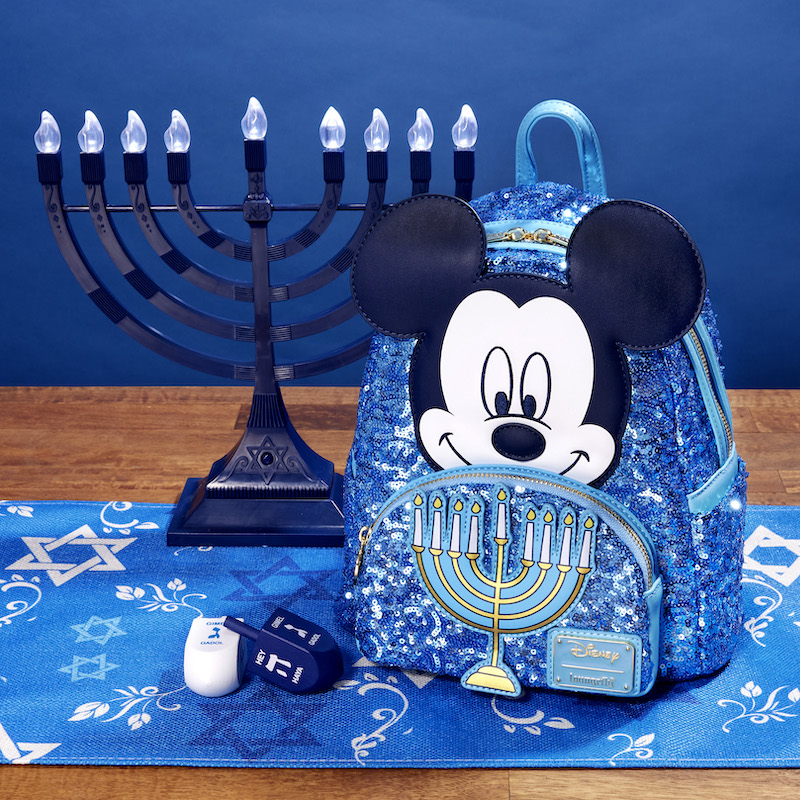 Light it up with our first ever Hanukkah mini backpack! This glittering blue mini backpack is covered in sequins and features Mickey Mouse on the front with a lit-up menorah on the front pocket.
The candles all glow in the dark! On the back, you'll find the words "Happy Hanukkah." Celebrate in cute, fun, glittery style with this backpack!
Nightmare Before Christmas Wreath String Lights Glow Crossbody Bag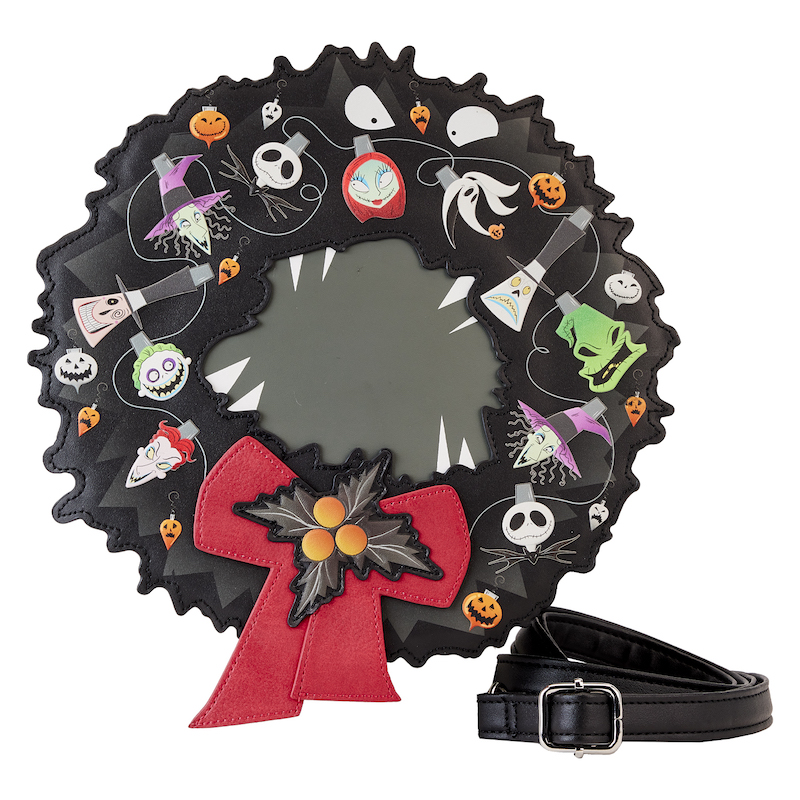 Who says wreaths have to be green? Deck the halls of your wardrobe with this fun crossbody bag in the shape of a black wreath with a red bow and string lights in the shape of your favorite Disney Tim Burton's The Nightmare Before Christmas characters!
Look closely and you'll find the wreath comes to life with glaring eyes and sharp teeth! As night falls, the characters on the bag glow. Turn it around to find a sandworm eating a holiday tree. Show your love for this movie with this eerily cool holiday bag!
Mickey & Friends Pastel Snow Globe Crossbody Bag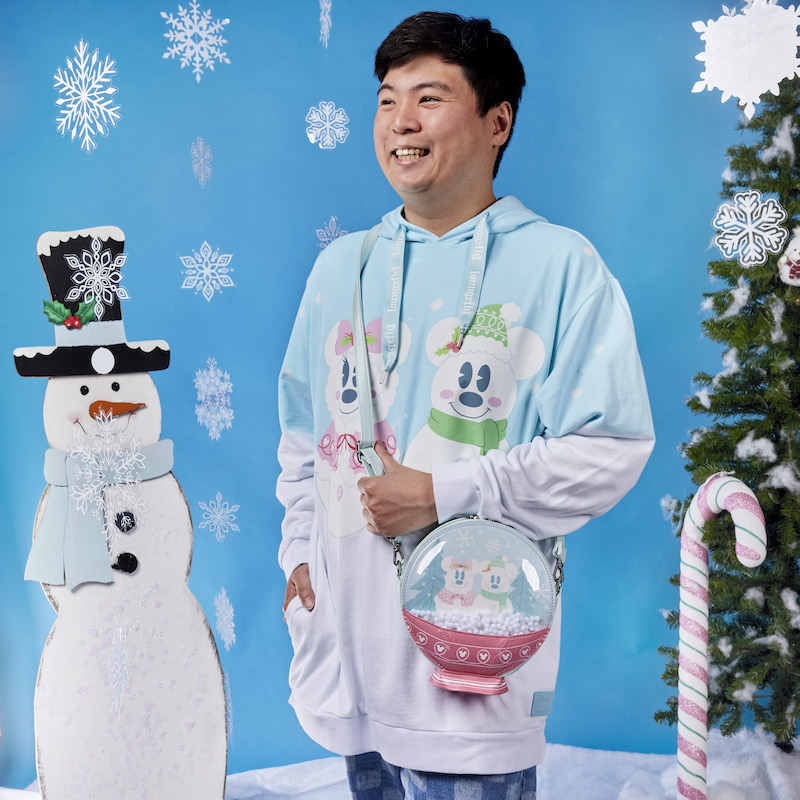 Shake it up! This fun figural crossbody bag takes the shape of a snow globe with Mickey and Minnie inside as snowmen. Loose pom-poms reside inside and bring the snow globe effect to life when you shake it.
Turn the bag around and find Donald and Daisy Duck as snowmen in the forest! A super adorable lining of the four as snowmen adds a perfect finishing touch. It's a winter wonderland in one accessory!
Stitch Holiday Snow Angel Glitter Mini Backpack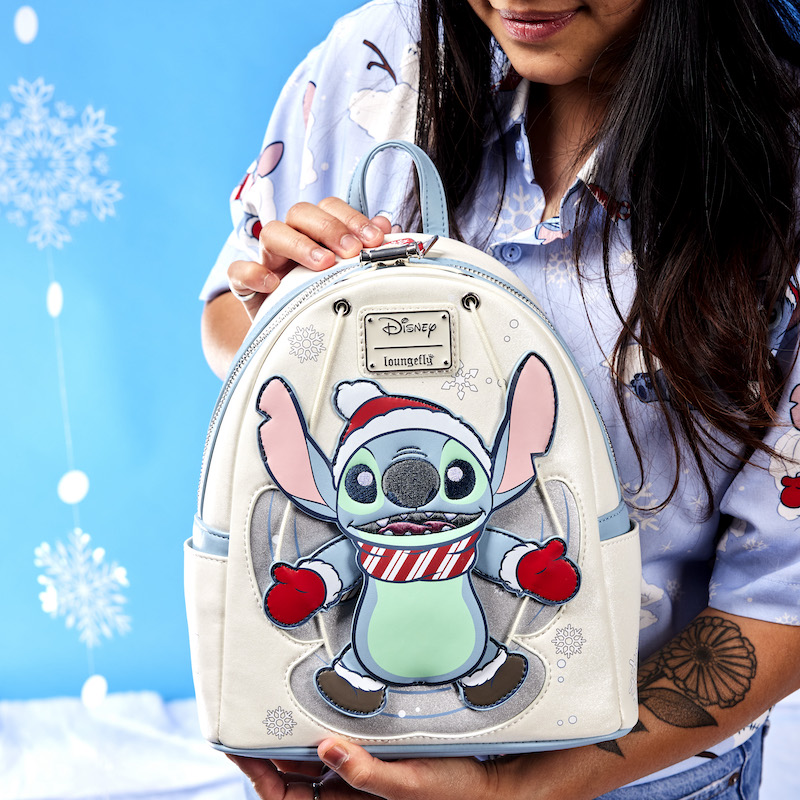 Who loves making snow angels?! A fun scene with Stitch in snow comes to life with this bag. Find him bundled up and laying back in the snow. Strings attached to his arms and legs allow you to pull them up and down so he can make a snow angel!
Turn the bag and find candy cane-striped straps and an image of Scrump beside a snowman! This festive bag is a perfect accessory to carry along on your wintertime adventures.
Winnie the Pooh Exclusive Eeyore Winter Plaid Pajama Mini Backpack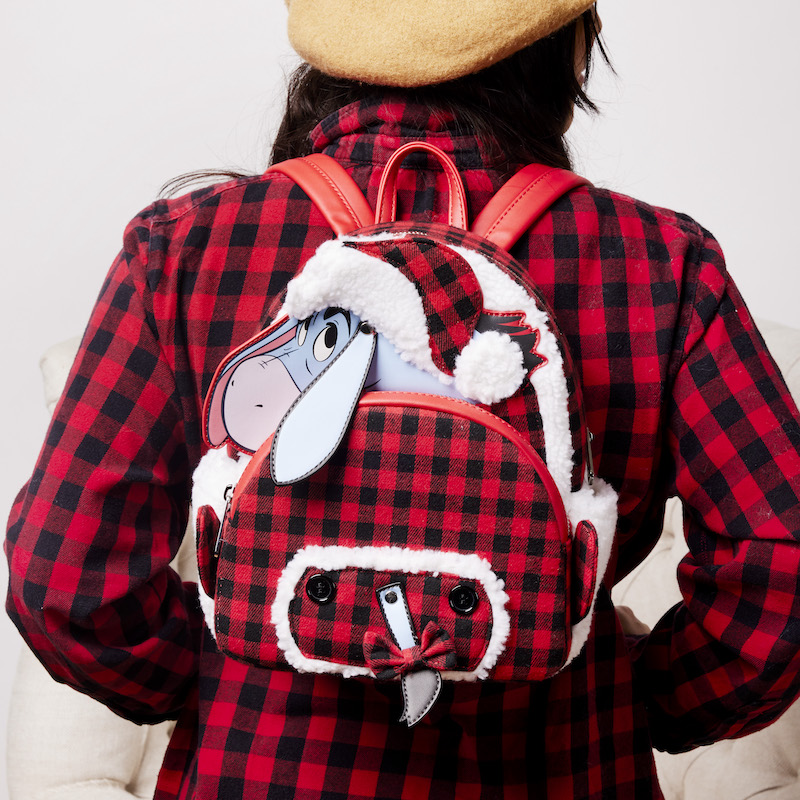 Time to get cozy! Eeyore is ready for the holidays with this super cute backpack. He wears plaid pjs that are flannel and plush. The front pocket has 3D buttons and shows his tail that swings on a rivet. To the sides, you can see his plaid-covered feet sticking out. He also wears a matching hat.
Plush details continue on the side pockets. On the back, you'll find a sweet image of Eeyore and friends in their matching plaid pajamas!
Disney100 Limited Edition Exclusive Platinum Simba Cosplay Mini Backpack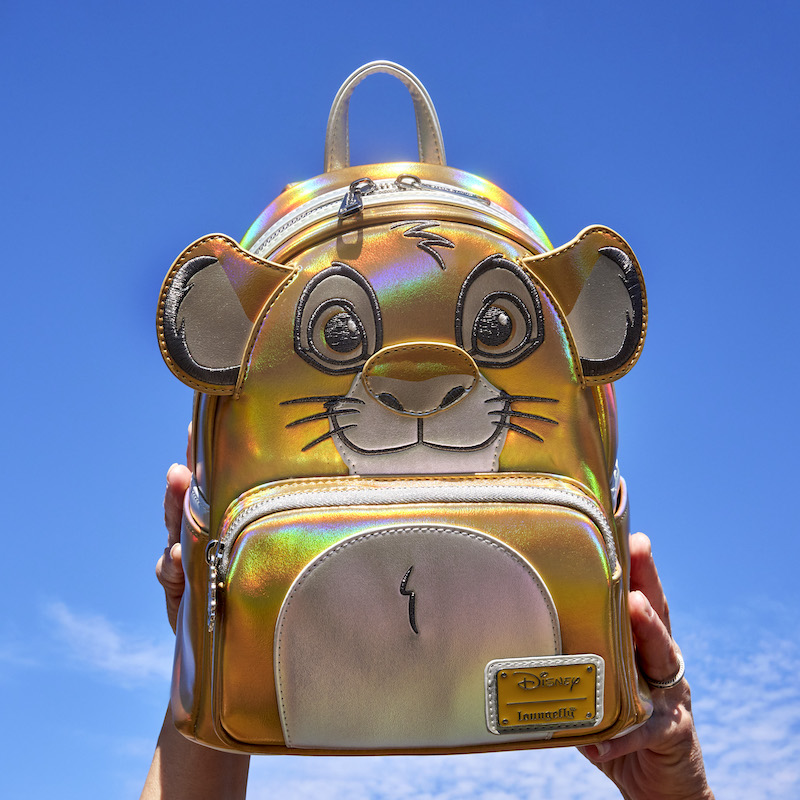 Have you collected the other Disney100 Platinum styles we've released so far? The third in our series will be Simba! He shines bright with metallic details. In the light, you'll see the holographic gleam of the bag. On the back, you'll find the words, "Disney100" and "100 Years of Wonder."
We know you just can't wait to add him to your collection!
Peanuts Snoopy Gingerbread House Scented Crossbody Bag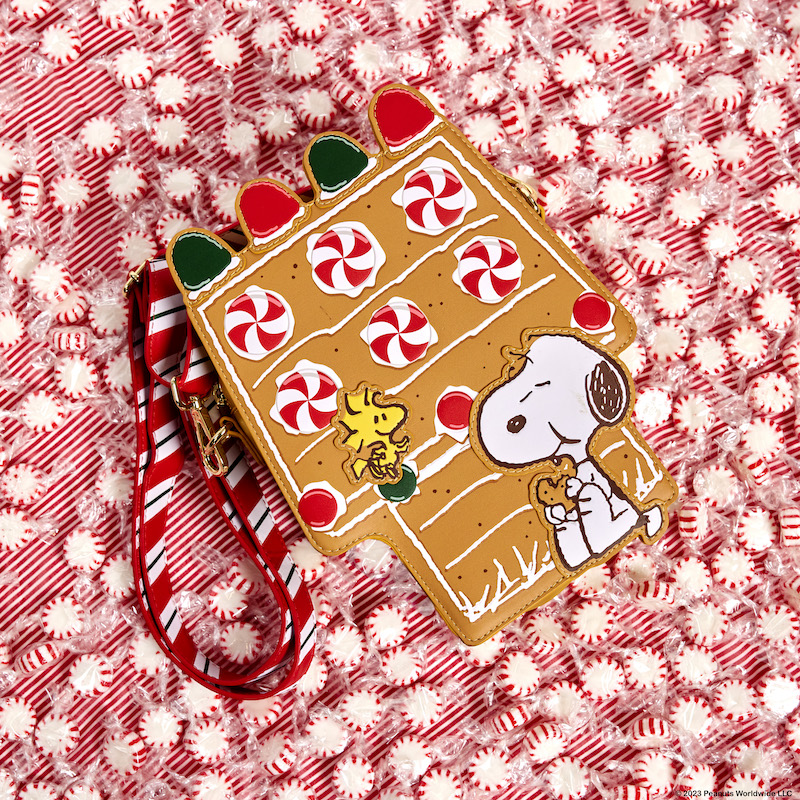 Snoopy definitely wins the best-decorated gingerbread house! You'll find fun details like gum drops and peppermints stuck to the house with icing. Snoopy and Woodstock hang out together, Snoopy snacking on a cookie.
The designs continue onto the back of the bag. A candy cane-striped strap brings the whole look together. Oh, and did we mention it's scented like peppermint?! 😵
Funko Pop! By Loungefly BTS Logo Iridescent Purple Mini Backpack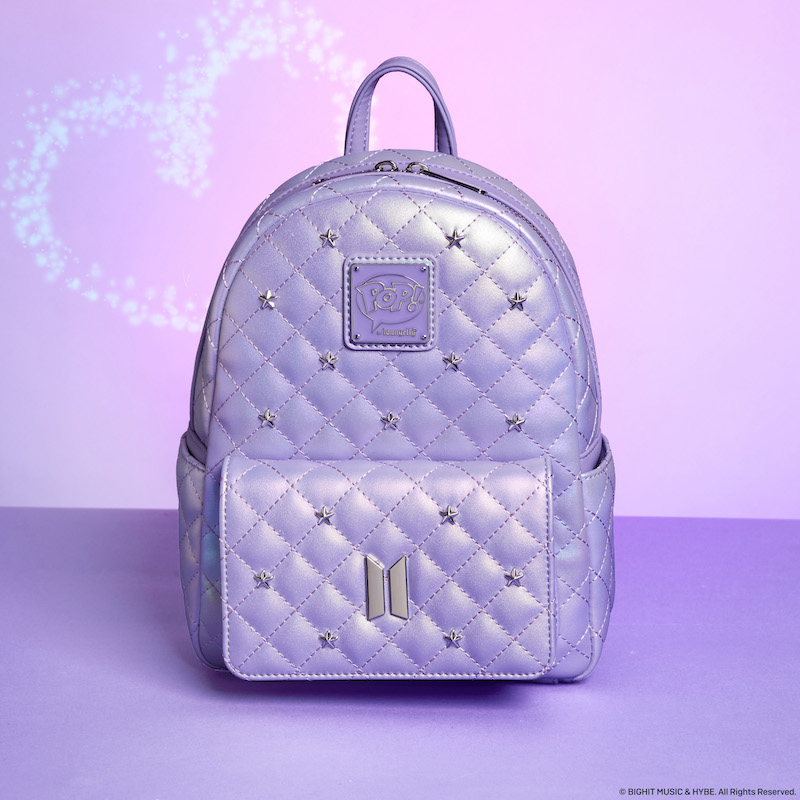 Calling everyone in the BTS army! You can now rep your fav band with a Loungefly bag. The bag has a quilted feel to it with silver stars on it. You'll find the BTS logo on the front pocket. The purple material is iridescent and shines in the light. On the inside, you'll find the members in Funko Pop! form along the lining.
Dr. Seuss' How the Grinch Stole Christmas! Wreath Crossbody Bag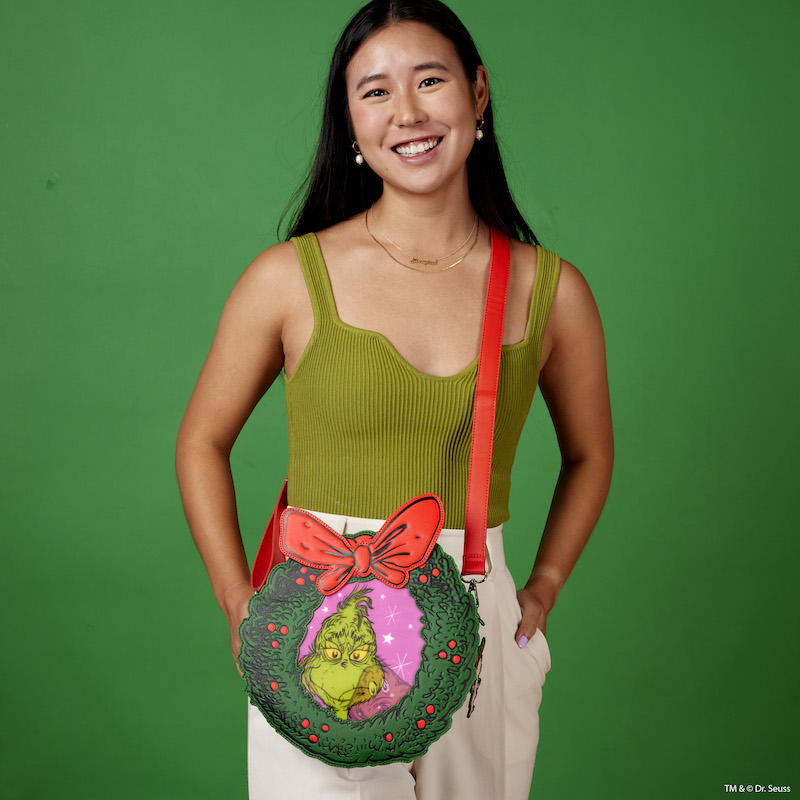 This bag is sure to make your heart increase in size threefold! This circular bag is in the shape of a holiday wreath with a large red bow on the top. In the center, you'll find a lenticular panel that features the Grinch from one direction and his dog Max in the other.
Cindy Lou Who is present as a charm and she's ready for Christmas with a present in her hand. On the back of the bag, you'll find snowflakes and stars. Holiday adventures are a must with this bag in hand!
See What Else Is Coming Soon at Loungefly
Take a look at more styles that are dropping next week! Gear up for the holidays with fun new styles – whether for yourself or others! Don't forget to sign up to get notified when they launch!