For those of you who are Disney fans, Mickey Mouse has been a huge part of your childhood. Whether it was from regularly heading to one of the Disney parks, devouring everything on Disney Channel, or watching any iteration of the Mickey Mouse Club!
Mickey Mouse rose to fame with the film Steamboat Willie in 1928, and he continues to make magic every day all around the world!
Celebrate Disney100 with us and become an unofficial part of the club with this new collection. From super cute hoodies (that have ears on the hood!) to a nostalgic backpack and crossbody bag – we have you covered to put together amazing Disney style! Check it out:
Backpacks and Crossbody Bags
Disney100 Mickey Mouse Club Mini Backpack
For styles inspired by the original TV show, this backpack is ready! This backpack features the show's title card in grayscale and has embroidered music notes around it. Pops of red on the zippers, plaque, and straps add a dynamic touch of color. On the back panel, Mickey Mouse is featured in the bottom right corner with a drum! It's a perfect piece to match the apparel in this collection, but with the black, white, and red color scheme, it can be added as a fun accessory to almost any outfit. Relive the fun anytime you put this on!
Disney100 Mickey Mouseketeers Crossbody Bag with Ear Holder
Get ready to drum to your own beat! This crossbody bag has the shape of Mickey's drum and features him on the front with the word "Mouseketeers" featured underneath him. The strap of this bag is two-toned red and says, "Mickey Mouse Club." Pair it with a fun, casual outfit for every day, but it's especially perfect for a Disney day because it has a special pocket just for your ears! Slide them into the pocket, secure them with the straps, and you have a perfect way to keep them safe and yet still show them off!
Apparel
Disney100 Mouseketeers Varsity Unisex Hoodie
The cutest hoodie ever awaits you! This Mouseketeers hoodie is black and white with accents of red. Music notes and a drumming Mickey are present on one sleeve, while the other says "Mouseketeers." The Mouseketeers logo is embroidered on the top left. But the best part is the hood – pull it up and you'll find Mickey Mouse ears attached! This hoodie is ready for all your Disney adventures, whether you're headed out to a park or staying at home and cozying up with your favorite Disney films.
Disney100 Mouseketeers Unisex Ringer Tee
Who needs a bright, fun Mouseketeers shirt?! Everyone! This shirt is red with black trim on the collar and sleeves. It has a repeating pattern of the Mouseketeers logo, music notes, Mickey Mouse ear hats, the Mickey Mouse Club logo, and Mickey with his drum. Toss it on with a pair of jeans for an easy look or dress it up by tucking it into a black skirt. No matter what you pair it with, it's sure to bring a smile to your face (and everyone else's)
Accessories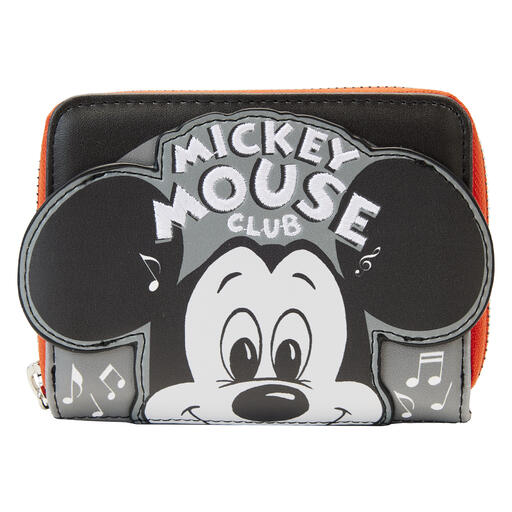 Disney100 Mickey Mouse Club Zip Around Wallet
Show off your club membership with this Mickey Mouse Club wallet! The front of this wallet shows the title card of the TV show, and the back has Mickey Mouse outside of his clubhouse beating on his drum. Everything is in greyscale, but fun pops of red stand out on the zipper, plaque, the Mouseketeers logo, and on Mickey and his drum. The inside has four slots for cards and one clear slot for an ID. Toss this into the Mickey Mouse Club backpack or the Mouseketeers crossbody bag for a complete look or bring it along solo when you want to travel light so it stands out on its own.
Disney100 Mouseketeers Ear Headband
A perfect finishing touch to any outfit! This ear headband features a red headband with the Mouseketeers logo on either ear and a black bow in the middle. The bow can detach so you can switch things up whenever you want! Make it stand out with any outfit of all black or match it with a red shirt and dark jeans.
Disney100 Mickey Mouse Club Lanyard with Card Holder
Show your spirit every day with this lanyard! This lanyard is white and has images of Mouseketeers doing their favorite activities surrounded by music notes. A rubber charm of the Mouseketeers logo is also attached. The card holder is in greyscale with some pops of red on the clubhouse with the Mouseketeers logo. This is a great piece to show off your love for Disney at work or at home!
Keychains and Pins
Disney100 Mickey Mouse Club Keychain
Add something fun to your key ring, your favorite bag, and more with this keychain! It features the iconic clubhouse in greyscale with the Mouseketeers logo in color on the front door. It features both enamel and rubber details.
Disney100 Mouseketeers Drum Keychain
Bring this keychain along as a reminder to drum to your own beat! This keychain is rubber and features Mickey Mouse's drum with the Mouseketeers logo. It makes it easy to add fun Disney style to anything!
Disney100 Mickey Mouse Club Hinged Pin
Calling all pin lovers! You'll want to add this to your collection. This pin is 3 inches tall and is in the shape of the clubhouse. It's in grayscale and has a pop of color with the Mouseketeers logo on the front door. This pin actually opens to reveal Mouseketeers doing their favorite activities like dancing and playing music and games around the Mouseketeers logo. This is a limited edition pin – there are only 1800. Add this to your collection for display or add it to your favorite denim jacket for instant style.
Find Your Favorite Disney Styles
As we celebrate 100 years of Disney magic, we have exciting Disney styles and collections for you! Find your favorite new Loungefly accessories and more!