Get ready for some happy haunts! There's always room for one more Loungefly item in your collection… 👻
This collection is really exciting because this is the first time we've done a Haunted Mansion hoodie! We spoke with Heather Espinoza and Desiree Navarro-Silverman about their contributions to this super fun collection, which includes the hoodie, a mini backpack, figural crossbody, wallet, lanyard, and 3" limited edition pin.
The Loungefly Haunted Mansion Hoodie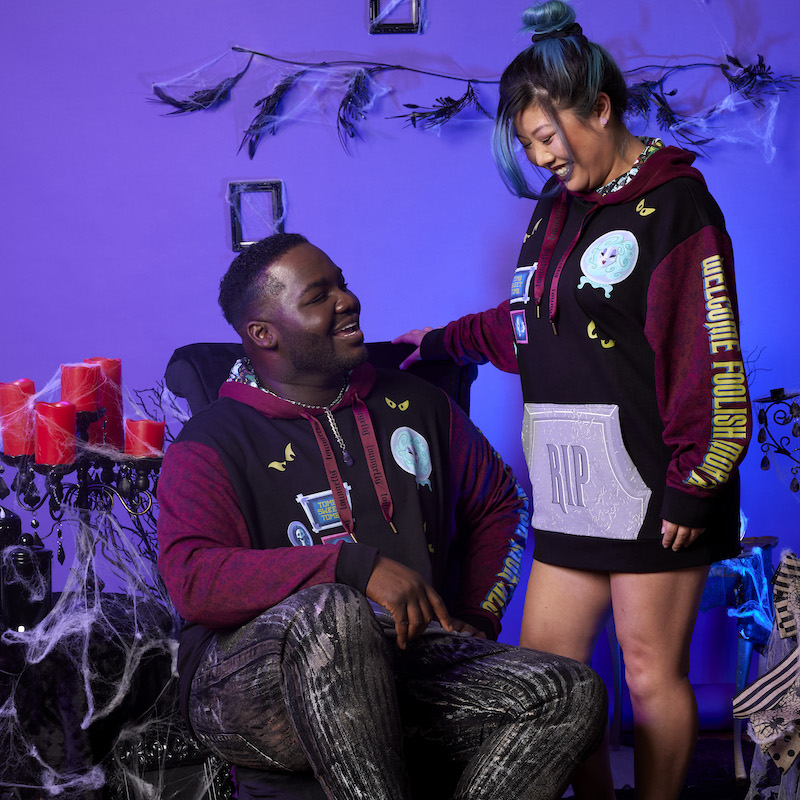 "As someone who loves going to Disney Parks, one might say, too often – I was SO incredibly excited to hear we were working on a hoodie for Haunted Mansion.
"After seeing the original concept of what our amazing artists drew up for this, I quite literally gasped at it. I love all the little hidden details to this whole collection, but the fact that I got to focus on Madame Leota and the gravestone for the hoodie, really sent me over the moon.
"I love being able to make a really cool concept into a physical thing. Something about apparel that I don't think a lot of people realize is that we receive everything in pieces – so it's a lot of imagining how something will turn out in the end, rather than seeing it in person fully.
"It entails everything from making sure every color is right, even if it means trying 3 or 4 times – to making sure the floating eyes were in the perfect spot to have their 'glow-ment.'
"I think our hoodie displays the most iconic parts of the ride that any Haunted Mansion fan will love. The burgundy color that we all decided on between accessories and apparel truly gives it a fresh look and makes it the perfect unisex hoodie. Come on, even 'Welcome Foolish Mortals' glows!! *gasps again*
"I can't wait to see people wearing it in the parks. If you see someone point, gasp, and possibly a shed a tear at you wearing it; it may be me. Totally normal HAHA."
-Heather Espinoza, Product Developer, Apparel
The Loungefly Haunted Mansion Mini Backpack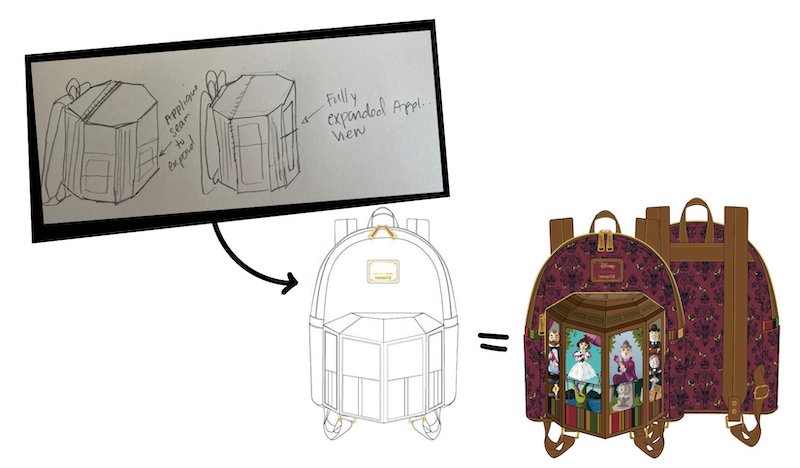 "Haunted Mansion was soooooo fun to help create! It's such a beloved spooky classic, that finding inspiration for this flowed easily amongst our talented and creative teams.
"All the Loungefly mortals had a unique and important part in bringing this collection to life. It all begins with the creative director's spooktacular vision, then our product design team brainstorms the functional aspect and overall design, followed by the talented and creative art team adding their whimsical touch, and then our productive development team's meticulous attention to detail helps round out the whole process. It's truly a collaborative effort.
"The design team's absolute favorite was bringing the iconic stretching portraits features to life on the backpack. We knew that making the appliques stretch was a must to bring you back to that enchanting moment when you first enter the Haunted Mansion.
"Our creation process involves things like hand drawing rough drafts, cutting and taping pieces of paper to mockup models, and referencing techniques that our talented team develops.
"It's all the attention to details our team takes which helps make it a signature Loungefly piece."
-Desiree Navarro-Silverman, Design Manager
Hauntingly Good Style with the Loungefly Haunted Mansion Collection
Ready to get haunting? Our whole Haunted Mansion collection is available now! Your ghostly favorites are waiting for you…