Whether you're in the midst of planning a wedding or dreaming about everything you want included for when the day comes, we know one thing – you want your personality to shine through in everything you do.
What better way to do that than by adding Loungefly to your special day? Our wallets, backpacks, and crossbody bags can be a perfect finishing touch to your wedding ensemble for your bachelor/bachelorette party, your wedding, and/or your reception.
If you're envisioning a complete look with the spirit of your favorite fandom, check out our bridal style guide below inspired by Cinderella, The Little Mermaid, Star Wars, and Shrek:
Cinderella
Embrace Cinderella style with a classic princess-style dress with a full skirt (with pockets, of course!) and a beaded bodice. You can keep it fully strapless or add some tulle for charming accents on over the arms. And no need to worry about midnight coming around, you're free to party all night long!
Our new Cinderella Happily Ever After Collection is a perfect companion to this style. It features Cinderella and Prince Charming in front of the castle after their wedding in backpack, crossbody, and wallet form. There's also a crown headband that has a veil attached! Everything in this collection is white with silver foil details, which adds a romantic touch and makes it versatile to match anything.
The Little Mermaid
Of course our Ariel-inspired look includes a mermaid-style wedding dress! This dress is beaded and form-fitting until just above the knee and then it flairs out in lovely layers of tulle. It's sleeveless with beaded straps and a plunging neckline. Add a veil accented with pearls to complete the look.
The Little Mermaid Triton's Gift Collection adds a fun pop of color to your wedding ensemble. The wallet features Ariel and Eric's wedding cake, the crossbody highlights the moment King Triton sends his magic over to Ariel to grant her wish to turn into a human, and the backpack shows Ariel and Eric happily married on a ship while King Triton and Ariel's sisters look on and wave. They serve as a reminder to follow your dreams and that true love can be found anywhere.
Star Wars
The most stylish wedding ensembles in the galaxy are an homage to Star Wars! Feature intergalactic fashion with a dress filled with stars – and get a veil to match! A V-neck without sleeves gives the dress a unique silhouette and allows you to highlight your favorite jewelry. The skirt goes out wider than the mermaid dress but isn't as dramatic as the Cinderella-inspired one, allowing flowing movement when you're ready to dance.
Our Star Wars Lightsaber Strap Crossbody fits in perfectly to your bridal aesthetic while also allowing your personality and passions to shine through! This crossbody is white and has the Jedi Order symbol and Yoda debossed all over the bag. On the closure of the bag, you'll find a metal rivet of the Jedi Order symbol. But the fun doesn't end there! Connecting the white strap to the bag is a green lightsaber! Toss all your essentials in and then get ready for the best party in the universe!
Shrek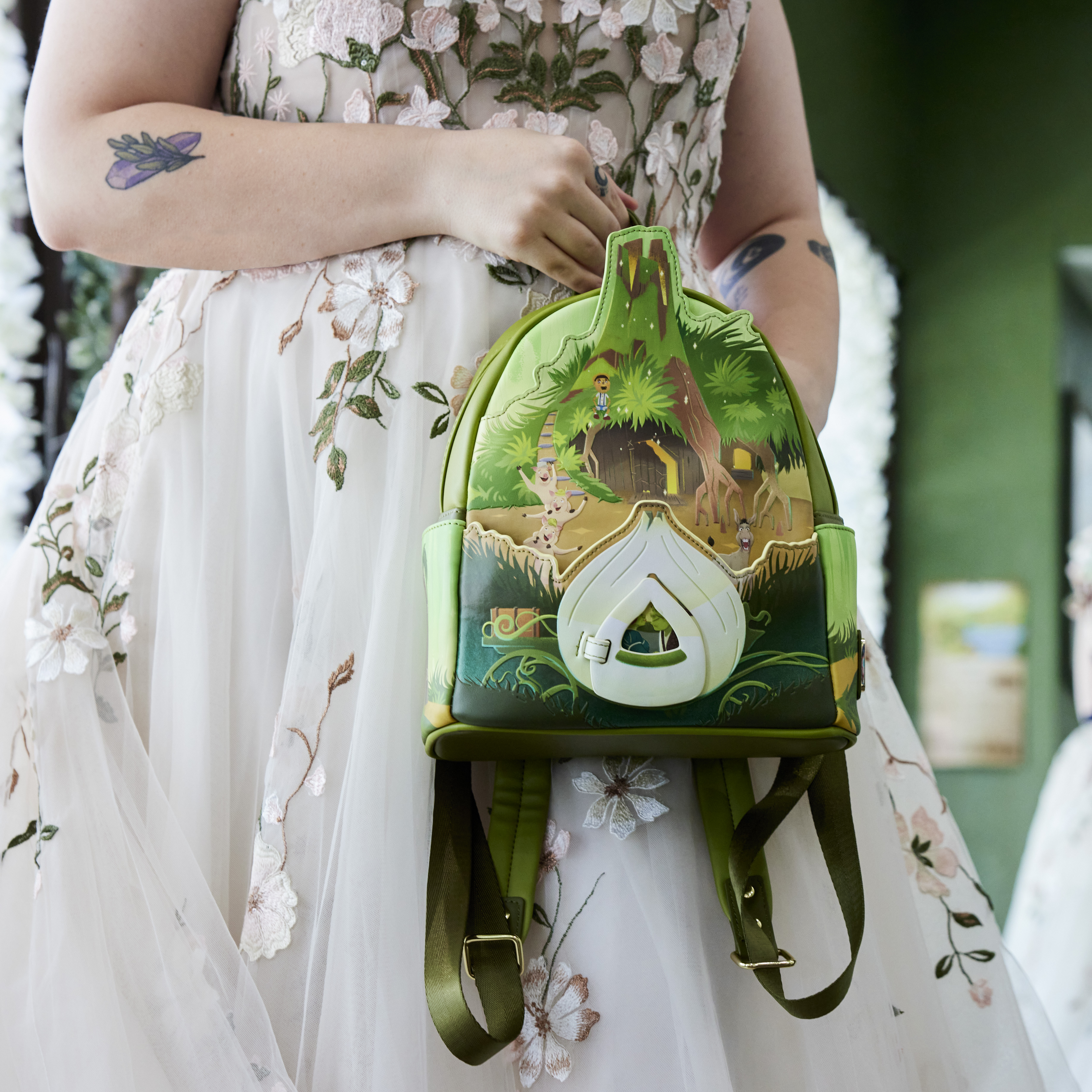 SomeBODY once told us that weddings are supposed to be a fairy tale – and fairy tales can happen anywhere! To embrace the magic of Far, Far Away, opt for a fun pop of color on your dress with beautiful flowers and leaves on the bodice and skirt! A full skirt of tulle adds to the whimsy and makes it easy to swish around on the dance floor (we know anything Shrek-themed is gonna have killer music).
Our Shrek Happily Ever After Collection is a super fun addition to any wedding look. On the front of the backpack, you'll find Shrek's swamp and below, on the front pocket, you'll find Shrek and Fiona riding away together in an onion carriage. Plus, the door opens and closes! You can also find the couple in their carriage on the flap wallet in this collection. Bring either or both along as a fun accessory and a reminder that you're about to embark on a fun adventure.
Shop Fandom Bridal Accessories at Loungefly
Dreaming about all the possibilities already? We're ready to celebrate all stages of your big day with you! Let your favorite stories and characters be a part of your next big adventure. Shop accessories that speak to your passion and make your wedding 100% you (and something nobody can forget!).