Tis the season of love and we're all about feeling the magic and celebrating our favorite love stories. The Little Mermaid features all kinds of love – true love between Ariel and Eric, the love between best friends Ariel, Flounder, and Sebastian, and familial love between King Triton and his daughter.
Our new Little Mermaid collection comes out on Valentine's Day and highlights one of our favorite moments – when Triton decides to grant Ariel's wish to become a human and she can finally marry the man of her dreams. This collection is all about celebrating love and how it conquers all.
Explore our Little Mermaid Triton's Gift Collection with this first look and see which items you'd love to add to your grotto full of treasures. For any gadget or gizmo you want, just hit "Notify Me" on the product page, and we'll send a message via seahorse to let you know when it drops.
Take a look:
Little Mermaid Triton's Gift Crossbody Bag
Who can forget the beautiful moment when Triton decides to turn Ariel into a human so she can be with Eric? This scene is featured on both the front and back of this crossbody bag. The back shows Triton with Sebastian sending his magic toward Ariel. Follow the golden sparkles to the front of the bag where they reach Ariel perched on a rock in the water. She beams as she realizes she's about to get her wish. The front clasp is in the shape of Triton's trident. Bring this bag along as a magical reminder that love always wins in the end.
Little Mermaid Triton's Gift Mini Backpack
Celebrate true love with this backpack that features Ariel and Eric's wedding. They wave goodbye to Ariel's family from their ship as King Triton and all of Ariel's sisters wave back. A rainbow hangs in the sky above them. Sebastian and Scuttle are featured on the side pockets, and Ariel and Eric are featured a second time on the back panel of the backpack. For all Little Mermaid fans, this bag celebrates the romantic and heartfelt scenes at the end of the film.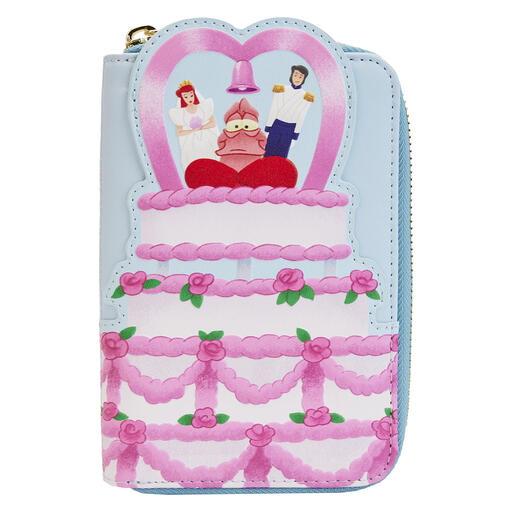 Little Mermaid Wedding Cake Zip Around Wallet
Who's ready for a wedding? Accessorize and put together sweet, romantic styles with this wallet. It features Ariel and Eric's wedding cake on the front, with a smaller image of it on the back. On the top of the cake, Sebastian cuddles the wedding cake toppers of Ariel and Eric. This is a perfect wallet to take around to complete a romantic outfit and show your love for your favorite Disney film.
Little Mermaid Triton's Gift Lanyard with Card Holder
Bring this magical moment with you every day with this lanyard and card holder! The lanyard is blue and has a repeating pattern of Ariel's silhouette, starfish, shells, bubbles, and tridents. The card holder features Ariel sitting on a rock while her father's golden magic approaches her to turn her into a human. A rubber charm of Flounder is also attached to the lanyard.
Little Mermaid Tritons Gift Keychain
This keychain features King Triton using his magic to turn Ariel into a human. His arm moves up and down as he wields his trident. This keychain is a perfect keepsake highlighting a precious father-daughter moment from the film.
Little Mermaid Tritons Gift Hinged Pin
Add this special moment to your collection with this 3" enamel pin. This pin features Ariel perched on a rock with Triton sending his golden magic over to her to transform her into a human. His arm wielding the triton moves back and forth. Pin it to a denim jacket to add some magic or display it on a pinboard!
Can You Feel the Love in the Air?
Incorporate these pieces into your everyday style for a touch of magic and romance. These pieces are perfect Valentine's gifts for the one you love or as a treat to yourself!